Tag :
Recipe
Earl Grey & Vanilla Bean Birthday Cake

Makes 3 6-inch round cake layers
Ingredients
⅔ cup milk
4 teaspoons of Nourishtea Duke of Earl
2 tea filters
2 whole eggs, plus 1 egg yolk
1 teaspoon vanilla extract
1¼ cups + 2 tablespoons (160 grams) cake flour
1 cup sugar
2¼ teaspoons baking powder
¼ teaspoon salt
½ cup (1 stick) unsalted butter, softened
blue or purple food coloring (optional)
Method
Preheat your oven to 350° F.
Line three 6″ round cake pans with parchment paper.  Grease and flour.
In a small saucepan, heat the milk until simmering.  Place 2 teaspoon of Duke of Earl tea into each tea filter. Remove the milk from the heat, add the tea filters, and steep for 5 minutes.  Remove the tea filters and allow the milk to cool completely.
Whisk together the whole eggs, egg yolk, and vanilla in a small bowl.  Set aside.
Sift together the flour, sugar, baking powder, and salt in a large bowl.
Add the butter and cooled milk to the dry ingredients.  Beat on low until well-blended.  Raise the speed to medium and beat for another minute.
Add the egg/vanilla mixture in three additions, beating well after each addition.
If desired, beat in food coloring.
Divide the batter between the three pans and bake for about 20 minutes, or until a toothpick inserted in the middle comes out clean.
Allow to cool in the pan for 10 minutes.  Remove from the pan and allow to cool completely.
Vanilla Bean Swiss Meringue Buttercream
Ingredients
4 egg whites
1¼ cups sugar
1 cup (2 sticks) unsalted butter
½ tablespoon vanilla extract
1 vanilla bean, split lengthwise and scraped
pinch of salt
Method
Cube the butter and leave out at room temperature (make sure you don't leave it over the dishwasher or oven or it will get too warm).
Whisk the eggs whites and sugar together in the top part of a double broiler.  Make sure that the water in the bottom part is simmering, not boiling.  Keep whisking until a candy thermometer reads 160° F.
Transfer to a stand mixer with the whisk attachment installed.  Whip at a medium speed until the mixture is at room temperature (the bowl feels neutral when you touch it).
Lower the mixing speed and add the butter, one cube at a time.  Keep mixing until there is an obvious change in the consistency of the buttercream – from soupy to much more solid (you can usually hear the mixer start making different noises).  If it stays soupy for a very long time, throw the bowl in the refrigerator for ten minutes or so and retry.
Add the vanilla extract, vanilla bean, and salt and keep mixing until they are incorporated.
Assembly
Level and torte (cut in half) each cake layer so that you have 6 even layers.  I like using a cake leveler

 

to do this.
Place your first cake layer on your decorating surface.  Spread a thin layer of buttercream evenly over the cake layer.  Place the next layer on top, and repeat.  Repeat with the remaining layers.
Spread a thin coat of buttercream over the top and sides of the cake.  Don't worry if you get crumbs in the frosting – that's what this layer is for!  Place the cake in the refrigerator for 20-30 minutes to allow the frosting to set.
Remove your cake from the refrigerator and frost with a final, thicker layer of buttercream.
Top with fondant rose candles if desired.
Adapted from Huntsman and Wynne's Chai Cake by the Building buttercream blogspot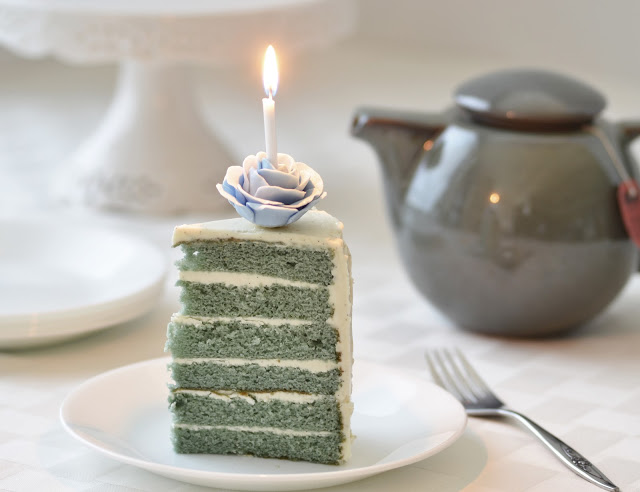 Serves 4
1/2 cup Steaming water
4 teaspoons loose-leaf green tea leaves such as sencha
4 teaspoons honey
4 salmon fillets
Pour the steaming water over the tea leaves in a small bowl and add honey. Cover and steep for 2-3 minutes, strain and discard the leaves. Place the salmon in a pan. Brush with honey tea and pour any remaining tea around the fish. Cover the fish. Let the fish marinate in the refrigerator for a minimum of 1 hour and a maximum of 2 days.
When ready to cook, preheat the oven to 350°F/180°C/gas 4. Place the fish in the pan skin-side down and pan fry until golden. They will not be cooked, transfer the fish to a roasting pan and place in the oven for 5-10 minutes (until the fish is cooked completely).
It is amazing served with sautéed sweet potatoes and a spinach and mushroom medley.

Glass of iced tea + a warm, sunny day = paradise!
With this cold brewing method, it's easy to always have iced tea on hand.
You will need:
A large glass pitcher
4 cups cold water
4-8 tbsp of your favourite nourishtea (any tea will work)
2 disposable tea filters
Steep at least 8 hours
Directions:
1. Divide the tea evenly among the 2 disposable filters.
2. Put the tea bags inside of the pitcher and fill with 4 cups of cold water.
3. Let steep for at least 8 hours in the fridge.
4. Sweeten with honey, agave nectar, or other soluble sweetener to taste.
Enjoy!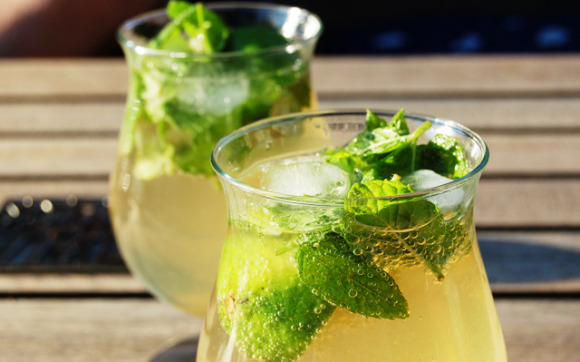 You'll definitely want to bookmark this Green Tea Mojito recipe before the hot summer days hit. Flavours of lime, mint and green tea will cool you down in a flash. Cheers to hot summer days ahead!
You will need:
Juice of 1 lime
4 large spearmint leaves
2 tsp honey or simple syrup
1/2 cup brewed green nourishtea (we like to use The Emerald Path), chilled
Splash of soda water
Sliced cucumber for garnish
Directions:
Muddle the mint in the lime juice in a tall glass. Fill the glass with ice, and pour in your chilled tea. Top with a splash of soda water and stir well. Garnish with a mint leaf and a slice of cucumber.
We can't wait for summer to arrive here at the nourishtea headquarters.
We can't think of anything more summery than the sweet taste of berries, so here's a recipe for strawberry butter to enjoy until the season arrives!
Strawberry Butter
1/2 cup butter, softened
1/4 cup confectioner's sugar
1/4 cup strawberry fruit preserves
Directions:
Combine all of the ingredients together in a large mixing bowl and beat with a mixer until fluffy. This sweet, airy butter tastes delicious over fresh scones or tea biscuits.
(Note: You can use blueberry or wildberry preserves if you prefer.)
Nothing says 'Sunday morning' like stack of hot pancakes topped with butter and real Canadian maple syrup. Serve with a pot of our Canadian Breakfast tea and indulge in the perfect Sunday morning breakfast.
You will need:
1 cup all-purpose flour
2 tbsp white sugar
2 tsp baking powder
1 tsp salt
1 egg, beaten
1 cup milk
Directions:
In a large bowl, mix flour, sugar, baking powder and salt. Make a well in the center, and pour in milk, egg and oil. Mix until smooth. Heat a lightly oiled griddle or frying pan over medium high heat. Pour or scoop the batter onto the griddle, using about ¼ cup for each pancake. Brown on both sides and serve hot. Top with pure Canadian maple syrup.
(Makes 4 servings)
With a little more time in the morning, why not try something special in the kitchen? We love these breakfast burritos, especially topped with hot sauce. We've paired this recipe with our Cresting Cranes of Legend tea because it's neutral flavour won't overwhelm the spices in the burritos. Let's eat!
You will need:
1 pack Italian sausages
12 eggs
1/4 tsp pepper
1 pinch salt
1 cup shredded old Cheddar cheese
1/4 cup chopped fresh coriander
1 green pepper, diced
6 large flour tortillas
2 cups salsa
Directions
1. With tip of knife, slit casing down length of sausage; push meat into large skillet. Cook over medium-high heat, breaking up with spoon, for about 5 minutes or until no longer pink; drain off fat.
2. Lightly beat together the eggs, pepper and salt; pour into pan with sausage and cook until beginning to set. Gently draw spatula across bottom of pan to form large soft curds; cook for about 3 minutes or until eggs are thickened and moist but no visible liquid remains. Stir in half of the cheese and the coriander.
3. Spoon egg mixture down centre of each tortilla; top with salsa, roll into a burrito.
4. Place seam down in a greased 13×9 glass baking dish. Sprinkle the remaining cheese down the centre of the tortillas.
5. Bake in the oven at 400°F for 10 to 15 minutes or until heated through.
6. Meanwhile, stir green pepper and remaining coriander into remaining salsa. Serve as a side to burritos.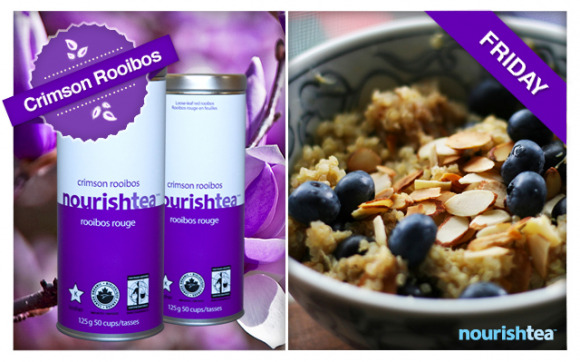 This hearty breakfast bowl will give you all the energy you need to conquer Friday. Try it served with a hot cup of our Crimson Rooibos tea, and you're good to go!
You will need:
½ cup quinoa
½ tsp cinnamon
¼ tsp nutmeg
1 tsp brown sugar
¼ cup dried cranberries
¼ cup roasted walnuts
½ cup milk
Directions:
Prepare quinoa according to the package directions. Stir in sugar and spices, then cranberries and walnuts. Top off your breakfast bowl with milk of your choice. There you have it, a hot and healthy breakfast cereal that's simple to make, and tastes great.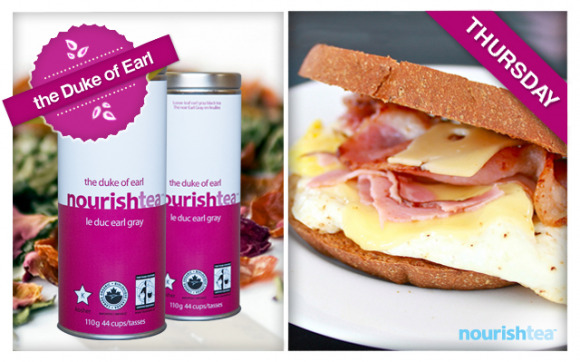 Who says sandwiches are just for lunch? This Italian inspired breakfast sandwich is satisfying and simple. Enjoy with a hot cup of our Duke of Earl tea and repeat after us: delizioso!
You will need:
2 slices of bread
1 slice of provolone cheese
A few slices of thinly sliced salami
1 egg
Freshly sliced tomato
Directions:
1. Spray a small pan with cooking spray and fry 1 egg until it is over-medium (yolk will be a bit firm).
2. In a toaster oven place the two slices of bread in a toaster oven. Place the cheese on one half of the bread. Toast until desired crispiness or until cheese melts.
3. While bread is toasting, slice a tomato.
4. Assemble the sandwich with the cheesy piece of bread on the bottom, the egg, and then layer remaining meat and tomato. Top with mayo or mustard if desired.
This berry powerful breakfast will give you enough gusto to make it through humpday.
You will need:
½ cup Greek Yogurt
Granola Ingredients:
5 cups old-fashioned rolled oats
3 cups almonds, coarsely chopped
1 cup sunflower seeds
3/4 cup untoasted sesame seeds
1/2 cup packed light brown sugar
2 tsp ground cinnamon
1 tsp ground ginger
1 tsp sea salt
3/4 cup unsweetened applesauce
1/3 cup rice syrup
1/4 cup honey
2 tbsp vegetable oil
Directions:
1. Preheat the oven to 300F (150C).
2. In a very large bowl, mix together the flaked grains or oats, almonds, sunflower and sesame seeds, brown sugar, cinnamon, ginger, and salt.
3. In a small saucepan, warm the fruit puree with the rice syrup, honey, and oil.
4. Mix the fruit mixture into the dry ingredients until thoroughly dispersed, then divide and spread the mixture evenly on two baking sheets.
5. Bake the granola for about 45 minutes, stirring every ten minutes, until the granola is deep golden brown.
6. Remove from oven, then cool completely.
7. Store in a large, airtight container. Keeps for up to one month.
(Yields about 1kg)