Category :
Green
Serves 4
1/2 cup Steaming water
4 teaspoons loose-leaf green tea leaves such as sencha
4 teaspoons honey
4 salmon fillets
Pour the steaming water over the tea leaves in a small bowl and add honey. Cover and steep for 2-3 minutes, strain and discard the leaves. Place the salmon in a pan. Brush with honey tea and pour any remaining tea around the fish. Cover the fish. Let the fish marinate in the refrigerator for a minimum of 1 hour and a maximum of 2 days.
When ready to cook, preheat the oven to 350°F/180°C/gas 4. Place the fish in the pan skin-side down and pan fry until golden. They will not be cooked, transfer the fish to a roasting pan and place in the oven for 5-10 minutes (until the fish is cooked completely).
It is amazing served with sautéed sweet potatoes and a spinach and mushroom medley.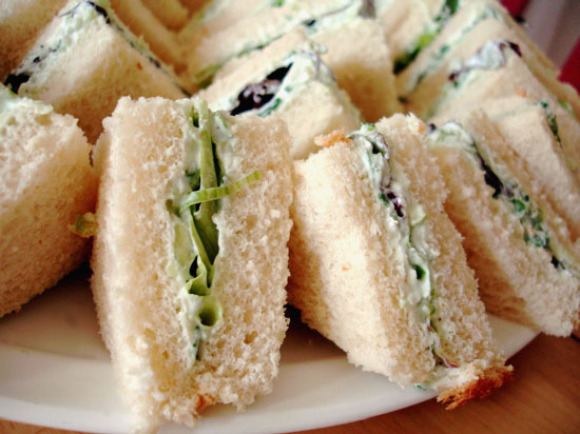 Summer is finally in full swing. If you're looking for a delicious and light snack to enjoy in the sun, check out the recipe below!
Ingredients:
1/2cup boiling water
8 ounces cream cheese, at room temperature
1/4cup finely chopped walnuts, toasted
1/4cup fresh mint leaves, finely chopped, plus 24 leaves for garnish
Salt
2 tablespoons unsalted butter, softened
6 thin slices pumpernickel bread, crusts removed
1 English cucumber, cut into 24 thin slices
Directions:
Steep the tea bag in the boiling water for 2 to 3 minutes. Strain and let cool.
In a medium bowl, mix the cream cheese, walnuts, 1/4 cup mint and 4 to 5 tablespoons brewed tea into a paste. Season to taste with salt.
Lightly butter each bread slice on 1 side and cut each slice into 4 squares. Place a cucumber slice on the buttered side of the bread, top with the cream cheese mixture and garnish with a mint leaf.
If you want a great drink to go with it, click the name check out one of our earlier posts for a Cold Brewed Iced Tea recipe.
Curious where this idea came from? Click here. Photo credit: Pretty and Fabulous.
When you're enjoying a cup of tea, do you ever think about how much tea the world drinks? Do you ever wonder what your dentist thinks of your tea drinking? Here are a few fun facts to think about next time you're waiting for water to boil.
#4. Tea is the second most consumed drink in the world. Water is the first.
You read that right. Every time you're drinking tea, most of the planet is enjoying it with you. In India alone over 3 billion cups are consumed per day.
#3. Tea was discovered by mistake.
It was discovered in the year 2737 BC by a Chinese Emperor named Shen Nung. The emperor had a rule that all of his water had to be boiled before he drank it. While one of his servants was boiling it for him, a gust of wind blew some tea leaves into his water. He drank it anyway and loved the taste. He then went on to share this discovery with the rest of his empire.
#2. If you drink green tea, your dentist will be happy with you.
Green tea, if consumed daily will make your entire mouth healthier. It contains powerful antioxidants that fight bacterial infections that cause bad things like cavities and gum disease, which has been linked to diabetes and heart disease.
#1. Tea is a superfood.
Whether it's black, green, white, or oolong, each cup you drink can easily be part of a healthy lifestyle. On top of keeping your mouth clean; all types of tea can aid in lowering your blood pressure and help prevent cancer, osteoporosis, and strokes. It also helps prevent sunlight damage to your skin, which hekwrinkles.
Photo Credit: H is for Home via Compfight cc
Is your dad a Matcha, Matcha Man?
Tea puns aside: Enter our contest on Twitter and you could WIN your dad a tin of Happy Matcha!
This Japanese green tea has antiviral and antibiotic properties to keep dad healthy. It's also loaded with antioxidants, one of which even helps with bodybuilding! Learn more about it here.
All you have to do to enter is follow us on Twitter @nourishtea and RT our tweet to win.
https://twitter.com/nourishtea/status/345274886408777728
See what others are saying about Happy Matcha and buy your own at well.ca.
Good luck tea fans, and Happy Father's Day!
Don't forget to enter our #MatchaMatchaMan Green #Tea Giveaway! http://t.co/gUKOoPwFVn #matcha
— nourishtea (@nourishtea) June 14, 2013
RT to win our Matcha! #MatchaMatchaMan #Giveaway http://t.co/gUKOoPwFVn pic.twitter.com/W1EV73lZZW

— nourishtea (@nourishtea) June 13, 2013
Terms & Conditions To enter the competition, you must (a) be a Canadian resident; (b) the age of majority in your Province and (c) retweet one of the qualifying contest tweets. No purchase necessary. Contest ends Sunday June 16, 9PM EST. Prize is not exchangeable for cash or any other prize. Incorrectly completed entries will be disqualified. Winner will be contacted after the giveaway ends.
Glass of iced tea + a warm, sunny day = paradise!
With this cold brewing method, it's easy to always have iced tea on hand.
You will need:
A large glass pitcher
4 cups cold water
4-8 tbsp of your favourite nourishtea (any tea will work)
2 disposable tea filters
Steep at least 8 hours
Directions:
1. Divide the tea evenly among the 2 disposable filters.
2. Put the tea bags inside of the pitcher and fill with 4 cups of cold water.
3. Let steep for at least 8 hours in the fridge.
4. Sweeten with honey, agave nectar, or other soluble sweetener to taste.
Enjoy!
Feeling stressed out? We've got you covered– here's our list of top 3 teas to help you mellow out.
Black tea
A dark black tea can help fight hormones that are released when you're stressed out. The active ingredient in tea that helps with hormone balance is called 'flavanoids'. Try a cup of our Sun Soaked Darjeeling and take a deep breath.
Green tea
Many people swear by green tea for overall good health, but did you know catechins and antioxidants in green tea can help reduce stress. How about a hot cup of our Jasmine Dragon Phoenix Pearls and a good book?
Herbal
Long day? Chamomile is a time trusted herb that can help you relax. Sweeten your cup of Warming Chamomile tea with a spot of honey and kick up your feet.
Which tea helps you relax? Tell us in the comments, or @nourishtea.
Sources:
Black tea | Green tea | Herbal tea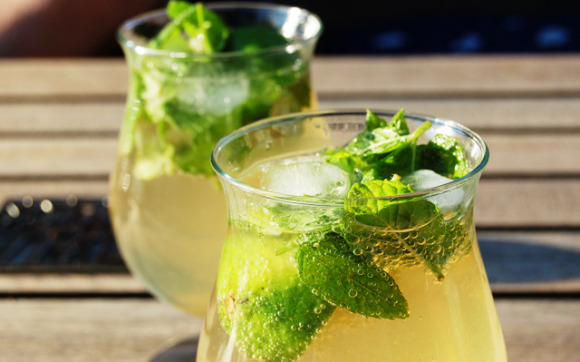 You'll definitely want to bookmark this Green Tea Mojito recipe before the hot summer days hit. Flavours of lime, mint and green tea will cool you down in a flash. Cheers to hot summer days ahead!
You will need:
Juice of 1 lime
4 large spearmint leaves
2 tsp honey or simple syrup
1/2 cup brewed green nourishtea (we like to use The Emerald Path), chilled
Splash of soda water
Sliced cucumber for garnish
Directions:
Muddle the mint in the lime juice in a tall glass. Fill the glass with ice, and pour in your chilled tea. Top with a splash of soda water and stir well. Garnish with a mint leaf and a slice of cucumber.
With the week just starting out, breakfast is the last thing on a busy mind. Whip up a batch of these all natural granola bars for a healthy meal that will fuel you on-the-go. Bonus: they also make a great afternoon snack!
You will need:
1 cup chopped nuts (almonds, walnuts, pecans)
1/2 cup assorted seeds (pumpkin, poppy, sunflower, sesame)
1/3 cup chopped dried fruit (apricots, mangos and dried cherries and unsweetened coconut)
1 tsp ground cinnamon
1/4 cup honey
Directions:
1. Preheat oven to 325F. Line an 8-inch square pan with foil or parchment paper and coat with cooking spray.
2. In a medium bowl, combine the chopped nuts, seeds, and dried fruit. Add cinnamon and honey, mixing well.
3. Pour mixture into prepared pan. Using wax paper, press down evenly until mixture is tight in pan.
4. Bake 18 minutes. Remove from oven and let cool at least 30 minutes. Use the sides of foil to lift the bars from the pan. Do not try to remove from foil—they will stick. Cut into bars.
Yield: 12-16 servings
Recipe.
All green everything! We're celebrating St. Patrick's Day with a cup of green nourishtea and these minty cookies.
You will need:
1 (1 pound 1.5 ounce) pouch sugar cookie mix
1/2 cup butter or margarine, softened
1/4 teaspoon mint extract
6 drops green food colouring
1 egg
1 cup creme de menthe baking chips
1 cup semisweet chocolate chips
Directions:
Mix cookie mix, butter, extract, food color and egg in bowl, until soft dough forms.
Stir in creme de menthe baking chips and chocolate chips.
Use a spoon and drop dough 2″ apart on a ungreased cookie sheet.
Bake at 350 degrees F for 8 to 10 minutes. Cool 3 minutes; remove from cookie sheet to wire rack.
Store at room temperature in a sealed container.
Cheers, tea lovers!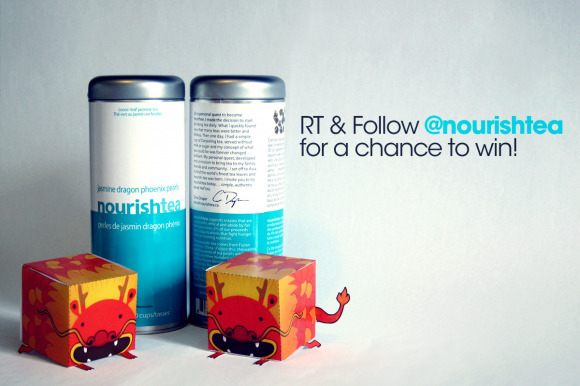 Happy Lunar New Year! To celebrate we're giving away two tins of our Jasmine Dragon Phoenix Pearls! This exquisite green tea comes from the Fujian province in China and is a best-seller at nourishtea.
All you have to do to enter is follow @nourishtea on Twitter and retweet a contest tweet to enter!
RT & FOLLOW to win two tins of Jasmine Dragon Phoenix Pearls! #greentea #giveaway twitter.com/nourishtea/sta…

— nourishtea (@nourishtea) February 7, 2013
Don't forget to Like us on Facebook for updates on more contests!
Terms & Conditions
This promotion is in no way sponsored, endorsed or administered by, or associated with, Twitter. We hereby release Twitter of any liability. To enter the competition, you must be: (a) a Canadian resident; (b) the age of majority in your Province; (c) follow @nourishtea on Twitter and (d) retweet one of the qualifying tweets. No purchase necessary. The closing date is February 11 at 11:59PM EST. The draw will take place on February 12. Prize is not exchangeable for cash or any other prize. Incorrectly completed entries will be disqualified. Winner will be contacted after the giveaway ends.