Category :
Herbal
When you're enjoying a cup of tea, do you ever think about how much tea the world drinks? Do you ever wonder what your dentist thinks of your tea drinking? Here are a few fun facts to think about next time you're waiting for water to boil.
#4. Tea is the second most consumed drink in the world. Water is the first.
You read that right. Every time you're drinking tea, most of the planet is enjoying it with you. In India alone over 3 billion cups are consumed per day.
#3. Tea was discovered by mistake.
It was discovered in the year 2737 BC by a Chinese Emperor named Shen Nung. The emperor had a rule that all of his water had to be boiled before he drank it. While one of his servants was boiling it for him, a gust of wind blew some tea leaves into his water. He drank it anyway and loved the taste. He then went on to share this discovery with the rest of his empire.
#2. If you drink green tea, your dentist will be happy with you.
Green tea, if consumed daily will make your entire mouth healthier. It contains powerful antioxidants that fight bacterial infections that cause bad things like cavities and gum disease, which has been linked to diabetes and heart disease.
#1. Tea is a superfood.
Whether it's black, green, white, or oolong, each cup you drink can easily be part of a healthy lifestyle. On top of keeping your mouth clean; all types of tea can aid in lowering your blood pressure and help prevent cancer, osteoporosis, and strokes. It also helps prevent sunlight damage to your skin, which hekwrinkles.
Photo Credit: H is for Home via Compfight cc
Glass of iced tea + a warm, sunny day = paradise!
With this cold brewing method, it's easy to always have iced tea on hand.
You will need:
A large glass pitcher
4 cups cold water
4-8 tbsp of your favourite nourishtea (any tea will work)
2 disposable tea filters
Steep at least 8 hours
Directions:
1. Divide the tea evenly among the 2 disposable filters.
2. Put the tea bags inside of the pitcher and fill with 4 cups of cold water.
3. Let steep for at least 8 hours in the fridge.
4. Sweeten with honey, agave nectar, or other soluble sweetener to taste.
Enjoy!
Feeling stressed out? We've got you covered– here's our list of top 3 teas to help you mellow out.
Black tea
A dark black tea can help fight hormones that are released when you're stressed out. The active ingredient in tea that helps with hormone balance is called 'flavanoids'. Try a cup of our Sun Soaked Darjeeling and take a deep breath.
Green tea
Many people swear by green tea for overall good health, but did you know catechins and antioxidants in green tea can help reduce stress. How about a hot cup of our Jasmine Dragon Phoenix Pearls and a good book?
Herbal
Long day? Chamomile is a time trusted herb that can help you relax. Sweeten your cup of Warming Chamomile tea with a spot of honey and kick up your feet.
Which tea helps you relax? Tell us in the comments, or @nourishtea.
Sources:
Black tea | Green tea | Herbal tea
Remember tea parties with Mom?
Sweet, cool, legendary. Sound like your Mom?
Enter our contest on Twitter and you could WIN your mom a triple tea prize pack!
Mom will win one tin of each nourishtea: Sweet Berry Breeze, Minty Igloo and Cresting Cranes of Legend.
RT to win a triple #tea prize pack for your Sweet, Cool, Legendary Mom! #MyMomIsTearrific ow.ly/kNPpP twitter.com/nourishtea/sta…

— nourishtea (@nourishtea) May 7, 2013
Cheers, and good luck tea fans!
Follow us on Twitter @nourishtea.
—
Terms & Conditions To enter the competition, you must (a) be a Canadian resident; (b) the age of majority in your Province and (c) retweet one of the qualifying contest tweets. No purchase necessary. Contest ends Sunday May 12, 9PM EST. Prize is not exchangeable for cash or any other prize. Incorrectly completed entries will be disqualified. Winner will be contacted after the giveaway ends.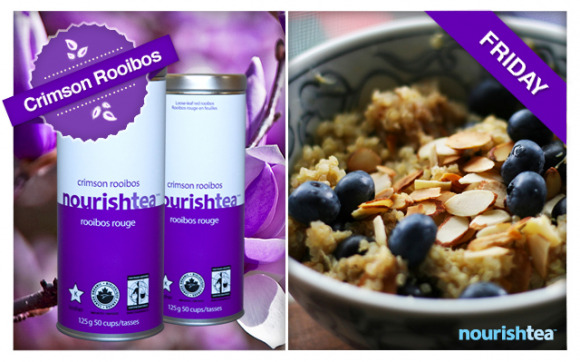 This hearty breakfast bowl will give you all the energy you need to conquer Friday. Try it served with a hot cup of our Crimson Rooibos tea, and you're good to go!
You will need:
½ cup quinoa
½ tsp cinnamon
¼ tsp nutmeg
1 tsp brown sugar
¼ cup dried cranberries
¼ cup roasted walnuts
½ cup milk
Directions:
Prepare quinoa according to the package directions. Stir in sugar and spices, then cranberries and walnuts. Top off your breakfast bowl with milk of your choice. There you have it, a hot and healthy breakfast cereal that's simple to make, and tastes great.
This berry powerful breakfast will give you enough gusto to make it through humpday.
You will need:
½ cup Greek Yogurt
Granola Ingredients:
5 cups old-fashioned rolled oats
3 cups almonds, coarsely chopped
1 cup sunflower seeds
3/4 cup untoasted sesame seeds
1/2 cup packed light brown sugar
2 tsp ground cinnamon
1 tsp ground ginger
1 tsp sea salt
3/4 cup unsweetened applesauce
1/3 cup rice syrup
1/4 cup honey
2 tbsp vegetable oil
Directions:
1. Preheat the oven to 300F (150C).
2. In a very large bowl, mix together the flaked grains or oats, almonds, sunflower and sesame seeds, brown sugar, cinnamon, ginger, and salt.
3. In a small saucepan, warm the fruit puree with the rice syrup, honey, and oil.
4. Mix the fruit mixture into the dry ingredients until thoroughly dispersed, then divide and spread the mixture evenly on two baking sheets.
5. Bake the granola for about 45 minutes, stirring every ten minutes, until the granola is deep golden brown.
6. Remove from oven, then cool completely.
7. Store in a large, airtight container. Keeps for up to one month.
(Yields about 1kg)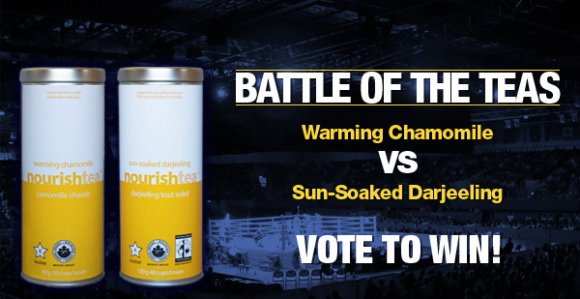 Spring is almost here! In the meantime, we have two of our teas duking it out for the title of Anti-Winter Tea.
In the yellow corner, straight from Egypt and puts everyone right to sleep: Warming Chamomile!
In the slightly-darker-shade-of-yellow, the full-bodied Himalayan sensation: Sun-Soaked Darjeeling!
Who will come out on top? YOU decide with your vote.
VOTE NOW on our Facebook page and you could WIN A TIN of your favourite!
Don't forget to Like us on Facebook and Follow us on Twitter for more contest updates!
Terms and Conditions
This promotion is in no way sponsored, endorsed or administered by, or associated with, Facebook. We hereby release Facebook of any liability. To enter the competition, you must be: (a) a Canadian resident; and (b) the age of majority in your Province. No purchase necessary. The closing date is March 10 at 11:59PM. The draw will take place on March 11. Prize is not exchangeable for cash or any other prize. Incorrectly completed entries will be disqualified. Winner will be contacted after the giveaway ends.
We gave some hints on throwing the perfect tea party for your swee'TEA' here, but what tea party is complete with out cookies?!
These soft strawberry cookies taste best dunked in our Sweet Berry Breeze tea.
Happy Valentine's Day tea lovers!
You will need:
1 box strawberry cake mix
1 teaspoon baking powder
2 large eggs
1/3 cup vegetable/canola oil
1/2 teaspoon vanilla extract
Directions:
1. Preheat oven to 350F. Line large baking sheet with parchment paper.
2. In a large bowl, mix together the cake mix and baking powder. Set aside. In a smaller bowl, whisk together the eggs, oil, and vanilla by hand. Add the egg mixture to the cake mixture and stir to form a dough- stir vigorously until all of the pockets of dry cake mix are gone.
3. Drop rounded balls of dough, about 2.5 Tablespoons each, onto prepared baking sheet. Make sure the balls of dough are taller than they are wide.
4. Bake for 10 minutes – do not let the cookies get brown.  Allow to cool on baking sheet for 3 minutes; they will  be very soft at first. As they cool, the tops may settle down; press them down gently with your fingers if they are not sinking much. Transfer to a wire rack to cool completely.
(Yields about 2 dozen cookies)
Recipe adapted from here.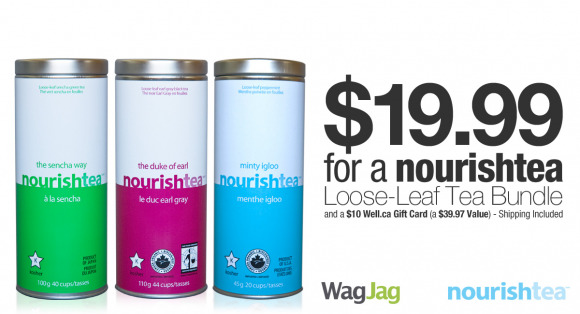 WagJag has a deal for a nourishtea bundle RIGHT NOW!
It includes:
– 1 tin of The Duke of Earl
– 1 tin of The Sencha Way
– 1 tin of Minty Igloo
and as a bonus:
– 1 Well.ca $10 gift card!
The bundle is only $19.99 (a $39.97 value) and includes FREE SHIPPING!
This deal is only active until February  10 so BUY NOW!
Source: WagJag

After the success of our first Holiday Giveaway, we've decided to raise the stakes. We're combining all of our Holiday Giveaways into one.
Instead of one prize of two teas, we're going to give away TWO prizes of EIGHT teas!
The prize package includes:
Spread the word—if your friends win, you could share the teas and host amazing tea parties. How does that sound?
This giveaway will run for 10 days, and don't forget you can tweet about the contest once every day for more entries.
Cheers everyone, and best of luck!
Update: Thanks to everyone who entered—congrats to Maddy and Brooke for winning our two prize packs!
Happy Holidays to all!