Category :
In The News
Earl Grey & Vanilla Bean Birthday Cake

Makes 3 6-inch round cake layers
Ingredients
⅔ cup milk
4 teaspoons of Nourishtea Duke of Earl
2 tea filters
2 whole eggs, plus 1 egg yolk
1 teaspoon vanilla extract
1¼ cups + 2 tablespoons (160 grams) cake flour
1 cup sugar
2¼ teaspoons baking powder
¼ teaspoon salt
½ cup (1 stick) unsalted butter, softened
blue or purple food coloring (optional)
Method
Preheat your oven to 350° F.
Line three 6″ round cake pans with parchment paper.  Grease and flour.
In a small saucepan, heat the milk until simmering.  Place 2 teaspoon of Duke of Earl tea into each tea filter. Remove the milk from the heat, add the tea filters, and steep for 5 minutes.  Remove the tea filters and allow the milk to cool completely.
Whisk together the whole eggs, egg yolk, and vanilla in a small bowl.  Set aside.
Sift together the flour, sugar, baking powder, and salt in a large bowl.
Add the butter and cooled milk to the dry ingredients.  Beat on low until well-blended.  Raise the speed to medium and beat for another minute.
Add the egg/vanilla mixture in three additions, beating well after each addition.
If desired, beat in food coloring.
Divide the batter between the three pans and bake for about 20 minutes, or until a toothpick inserted in the middle comes out clean.
Allow to cool in the pan for 10 minutes.  Remove from the pan and allow to cool completely.
Vanilla Bean Swiss Meringue Buttercream
Ingredients
4 egg whites
1¼ cups sugar
1 cup (2 sticks) unsalted butter
½ tablespoon vanilla extract
1 vanilla bean, split lengthwise and scraped
pinch of salt
Method
Cube the butter and leave out at room temperature (make sure you don't leave it over the dishwasher or oven or it will get too warm).
Whisk the eggs whites and sugar together in the top part of a double broiler.  Make sure that the water in the bottom part is simmering, not boiling.  Keep whisking until a candy thermometer reads 160° F.
Transfer to a stand mixer with the whisk attachment installed.  Whip at a medium speed until the mixture is at room temperature (the bowl feels neutral when you touch it).
Lower the mixing speed and add the butter, one cube at a time.  Keep mixing until there is an obvious change in the consistency of the buttercream – from soupy to much more solid (you can usually hear the mixer start making different noises).  If it stays soupy for a very long time, throw the bowl in the refrigerator for ten minutes or so and retry.
Add the vanilla extract, vanilla bean, and salt and keep mixing until they are incorporated.
Assembly
Level and torte (cut in half) each cake layer so that you have 6 even layers.  I like using a cake leveler

 

to do this.
Place your first cake layer on your decorating surface.  Spread a thin layer of buttercream evenly over the cake layer.  Place the next layer on top, and repeat.  Repeat with the remaining layers.
Spread a thin coat of buttercream over the top and sides of the cake.  Don't worry if you get crumbs in the frosting – that's what this layer is for!  Place the cake in the refrigerator for 20-30 minutes to allow the frosting to set.
Remove your cake from the refrigerator and frost with a final, thicker layer of buttercream.
Top with fondant rose candles if desired.
Adapted from Huntsman and Wynne's Chai Cake by the Building buttercream blogspot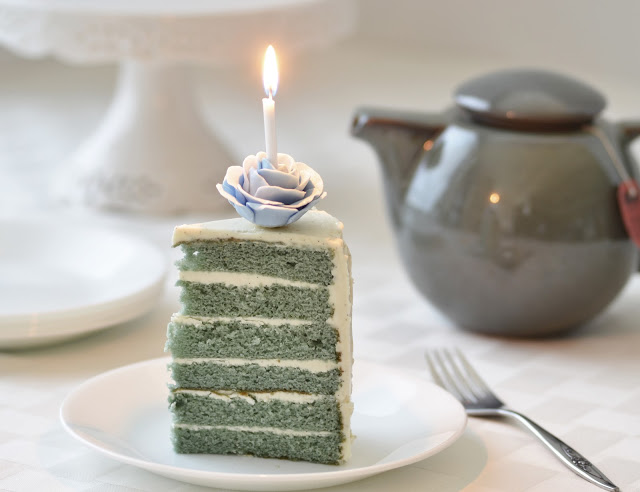 There are many ways to brew loose leaf tea.
How you brew depends on your preference and what accessories you have on hand.
As a standard rule of thumb you will need about 1 tsp of tea for every 6-8 oz of water.
1. French press/Press pot
You can see our post on how use one here.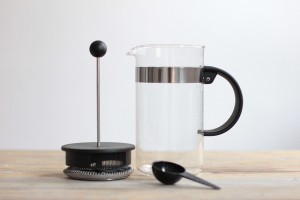 2. Paper filters
Disposable paper filters are available at many tea shops, or you can buy them online here.
Measure out the tea into the filter. Fold the top into the pouch, making a sealed tea bag so the leaves dont escape.
These filters can be used for a single cup of tea, or for a full pot.
3. Tea Infuser
Fill your infuser with tea, and let steep until your tea reaches your desired strength.
Metal tea infusers come in many shapes and forms. Some ball infusers are attached to a small metal chain (like a tea bag) and some are built right into a cup or pot like a basket.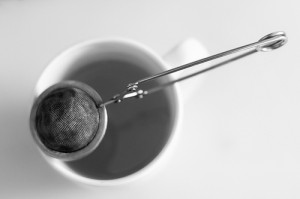 4. Freeform Brewing
Some experienced tea drinkers prefer to allow the leaves to bloom freely to full size.
Your tea will be stronger with this method, and you may get a leaf or two in your mouth. It's all about preference!
How do you steep? Tweet us @nourishtea.
Zast Foods is excited to announce that it has formed a partnership with QOL Programs Inc, a company owned and operated by Avi Markus, a co-founder of the nourishtea brand, in order to distribute nourishtea into the US marketplace.
Avi's passion and understanding of the nourishtea brand, the evolving tea category, and overall "natural set" within grocery, will be of great benefit to nourishtea in the United States, as it begins to roll out in several key markets in time for late 2013 / early 2014. When interviewed Avi said "I'm thrilled to be back involved with this exceptional brand, and I am confident that it will do extremely well in the US at this time – when the tea category is going through such great changes. The tea set is ready for a contemporary and quite frankly, exciting loose leaf brand, with an honest value proposition".
nourishtea can be sourced through John Gentile of AJ Letizio Sales and Marketing, and can be found on the Buyer's Best Friend wholesale network www.bbfdirect.com
The brand can be shipped direct or through a regional distributor of choice.
Avi Markus can be reached at 416.220.9979 or avi@qolprogramsinc.com
John Gentile can be reached at 781.686.2537 or jgentile@ajleitizio.com
We invite all buyers and planners to please be in contact in order to receive samples and learn more about nourishtea.
At nourishtea, our goal has always been to bring the goodness of loose leaf tea to as many tea lovers around the world as possible. Our tea is honest, authentic, delicious and all-natural.
We have experienced tremendous success over the past 4 years (thanks to our amazing supporters) and are pleased to announce that we will be partnering with Zast Foods to help nourishtea continue to grow.
In addition to quickly expanding its health-focused offerings — including ʻNude Fruit', a new, local frozen fruit product — Zast Foods has a fantastic network of retail partners.
This partnership will allow nourishtea to spread our message to even more tea lovers and maintain our great pricing, fair labour practices, and best of all; our high-quality, authentic loose leaf teas.
We're very excited about this new relationship and the ability to share the loose leaf teas that we are so proud of to even more tea lovers around the world.
To keep up with the latest news, great recipes and other fun stuff, be sure to check us out on Facebook and follow us on Twitter