Tag :
tea party
Earl Grey & Vanilla Bean Birthday Cake

Makes 3 6-inch round cake layers
Ingredients
⅔ cup milk
4 teaspoons of Nourishtea Duke of Earl
2 tea filters
2 whole eggs, plus 1 egg yolk
1 teaspoon vanilla extract
1¼ cups + 2 tablespoons (160 grams) cake flour
1 cup sugar
2¼ teaspoons baking powder
¼ teaspoon salt
½ cup (1 stick) unsalted butter, softened
blue or purple food coloring (optional)
Method
Preheat your oven to 350° F.
Line three 6″ round cake pans with parchment paper.  Grease and flour.
In a small saucepan, heat the milk until simmering.  Place 2 teaspoon of Duke of Earl tea into each tea filter. Remove the milk from the heat, add the tea filters, and steep for 5 minutes.  Remove the tea filters and allow the milk to cool completely.
Whisk together the whole eggs, egg yolk, and vanilla in a small bowl.  Set aside.
Sift together the flour, sugar, baking powder, and salt in a large bowl.
Add the butter and cooled milk to the dry ingredients.  Beat on low until well-blended.  Raise the speed to medium and beat for another minute.
Add the egg/vanilla mixture in three additions, beating well after each addition.
If desired, beat in food coloring.
Divide the batter between the three pans and bake for about 20 minutes, or until a toothpick inserted in the middle comes out clean.
Allow to cool in the pan for 10 minutes.  Remove from the pan and allow to cool completely.
Vanilla Bean Swiss Meringue Buttercream
Ingredients
4 egg whites
1¼ cups sugar
1 cup (2 sticks) unsalted butter
½ tablespoon vanilla extract
1 vanilla bean, split lengthwise and scraped
pinch of salt
Method
Cube the butter and leave out at room temperature (make sure you don't leave it over the dishwasher or oven or it will get too warm).
Whisk the eggs whites and sugar together in the top part of a double broiler.  Make sure that the water in the bottom part is simmering, not boiling.  Keep whisking until a candy thermometer reads 160° F.
Transfer to a stand mixer with the whisk attachment installed.  Whip at a medium speed until the mixture is at room temperature (the bowl feels neutral when you touch it).
Lower the mixing speed and add the butter, one cube at a time.  Keep mixing until there is an obvious change in the consistency of the buttercream – from soupy to much more solid (you can usually hear the mixer start making different noises).  If it stays soupy for a very long time, throw the bowl in the refrigerator for ten minutes or so and retry.
Add the vanilla extract, vanilla bean, and salt and keep mixing until they are incorporated.
Assembly
Level and torte (cut in half) each cake layer so that you have 6 even layers.  I like using a cake leveler

 

to do this.
Place your first cake layer on your decorating surface.  Spread a thin layer of buttercream evenly over the cake layer.  Place the next layer on top, and repeat.  Repeat with the remaining layers.
Spread a thin coat of buttercream over the top and sides of the cake.  Don't worry if you get crumbs in the frosting – that's what this layer is for!  Place the cake in the refrigerator for 20-30 minutes to allow the frosting to set.
Remove your cake from the refrigerator and frost with a final, thicker layer of buttercream.
Top with fondant rose candles if desired.
Adapted from Huntsman and Wynne's Chai Cake by the Building buttercream blogspot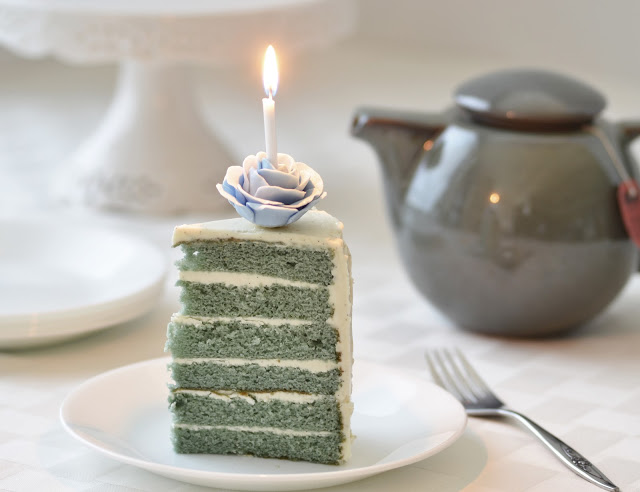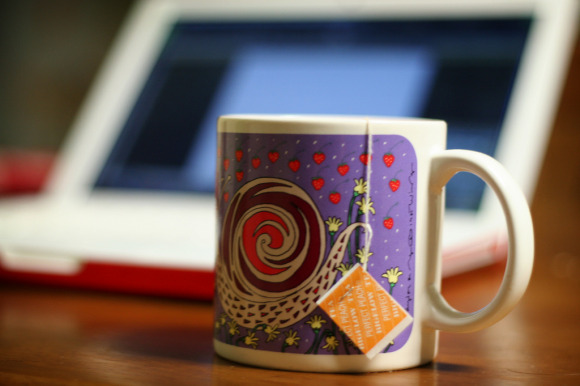 No need to lose touch with friends and family. May we suggest a virtual tea party?
Dedicate one day a week for "virtual tea time" – it's easy, brew a cup, and meet online for a video chat. If you're short on time, make it one cup. If you've got a lot to talk about, brew a pot!
Tell us who you would have a virtual tea party with @nourishtea.
Cheers to staying in touch, tea lovers.
Why not have a Virtual Tea Party? http://t.co/kLf4b7s68R

— nourishtea (@nourishtea) June 11, 2013
Photo Credit: ginnerobot via Compfight cc
Style, class, and trendy London tea culture. What more could a tea lover ask for?
Angel Adoree's book will take you through all the steps of recreating a classic tea party. You'll aslo find recipes, spreads, where to find vintage china and even hair and make-up recommendations for the big party.
Ready for a magical adventure? Check your local library or book store for this read!
Do you have a favourite tea book? Let us know @nourishtea.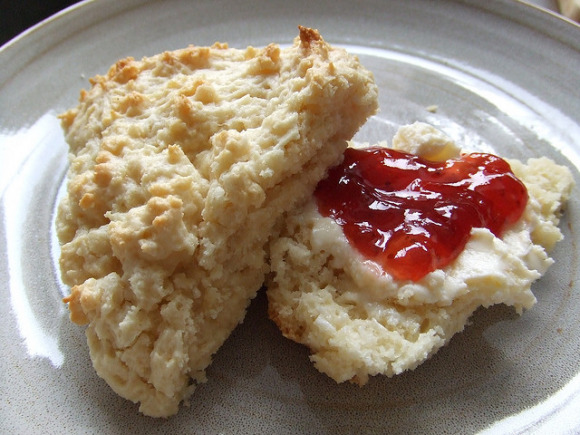 Tea and scones. Has there ever been a more perfect pair?
These rich cream scones are a must bake for your low tea party! (How to host a tea party click here)
You will need:
What nourishtea would you pair these scones with? Tweet us @nourishtea.
(Recipe via Martha Stewart)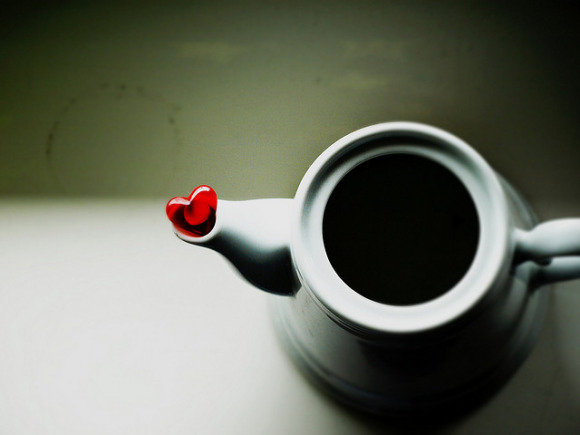 Valentine's Day is just around the corner, so treat your Swee'TEA' to a romantic tea party for two.
Here's how:
Set the mood with soft lighting, music and flowers.
Spare no details in setting the table just right. May we suggest sprinkling rose petals over the table and using your finest tea set.
Tempt them with a treat. No dessert spells out 'romance' quite like chocolate covered strawberries (Recipe here)
And of course, prepare a pot of their favourite nourishtea.
With such special treatment, your Valentine is sure to melt!
Happy Valentine's Day tea lovers.
A lemon wheel is the best way to infuse your cup of tea with lovely lemon flavour.
Unlike a wedge, the wheel will float in your cup and enhance your nourishtea with every sip.
Cut both ends off of the lemon, and begin to thinly slice horizontally across the fruit. Don't slice the lemons too thin, or they won't present very nicely.
If you're hosting others, arrange lemon wheels on a silver tray, with a small fork for serving. Remember to remove any seeds with a paring knife.
Do you take lemon with your tea? Tell us on twitter @nourishtea.
Photo by Tom Tolkien
Also known as "afternoon tea" this small meal was traditionally served on low tables. Today, "low" refers to the time tea is served; 3-5pm. Afternoon tea is a fantastic way to spend time with friends chatting and catching up. We're going to take you through all the steps of throwing a delightful low tea party of your very own!
Invite
Low tea is best reserved for small groups. We suggest a party of no more than 6, but ultimately the number of guests is up to you.
A paper invitation is a must. Include essential information like date, time, and dress code. Depending the formality of your party, you may suggest the ladies wear hats and gloves, and the gentleman wear blazers.
Setting
Doilies, lace and fine china all politely declare 'tea party'. If you have fine silver or special china, this is the perfect time to let it shine! If you don't have a set of teacups, try looking at and thrift store where you can find often find a full set, or you can build an eclectic collection of various cups and saucers.
Each guest should have a teacup and saucer, a small plate for food, a teaspoon, a butter knife (for scones) and a cloth napkin.
Food
A three-tiered stand in the centre of the table is the perfect way to present 3 courses; tea sandwiches, scones, and bite sized desserts. The first course is served from the bottom of the tray, working upwards.
Food is best served in small, dainty portions, since low tea is essentially a snack time. Conversation and tea are the main focus, not the food.
Some extras you will need on the table:
Sliced lemons
Sugar bowl
Milk
Butter dish
Tea
The lady of the hour, and the most important detail of the party! We recommend a black tea like our Duke of Earl or Canadian Breakfast. Steep to a medium strength, unless your group has a united specific preference.
Taste your tea first before adding extras.  Remember tea first, then add milk and sugar, or lemon.
Enjoy the tea and good company, cheers!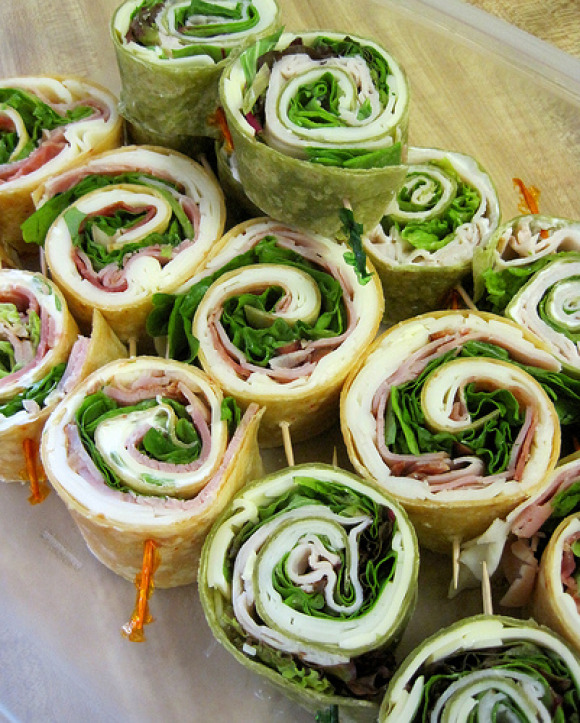 Traditional pinwheel sandwiches are a classic when served with tea. But for a modern approach to the tea luncheon, these rolled sandwiches are a tasty alternative with many possibilities. Serve with our Cresting Cranes of Legend tea.
First, lie out a large tortilla of choice. You can cut it into a square now to make rolling easier.
Coat the tortilla with a wet ingredient, like hummus, dijon or cream cheese. Not too thick, but enough to bind the other ingredients together. Next thinly lie out meat, cheese and veggies flat covering the surface of the wrap.
Try one of these combos or make your own!
Dijon, ham and swiss
Egg salad and spinach
Hummus and roasted veggies
Pesto, provolone and salami
Roll the wrap somewhat tightly into a log, and slice into even pinwheels. Use a decorative toothpick to hold the pinwheel together. Voila! Understated sandwiches for your next tea party.