Category :
Uncategorized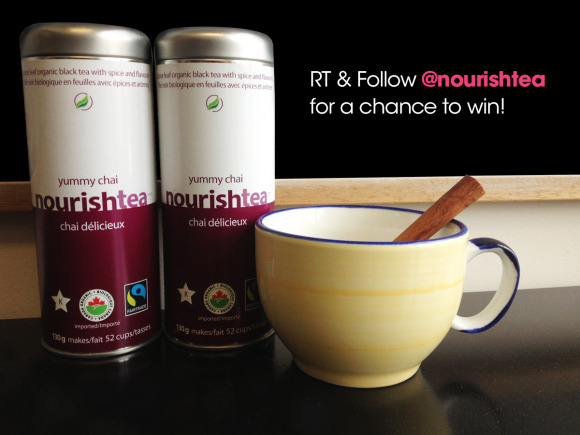 All you have to do to enter is follow @nourishtea on Twitter and retweet a contest tweet to enter!
Don't forget to Like us on Facebook for updates on more contests!
CHAI HARD. RT & FOLLOW us to win two tins of nourishtea! #looseleaf #tea #TeaTime http://t.co/fPwX6aYH2N http://t.co/liAjdbJGaP

— nourishtea (@nourishtea) August 27, 2013
CHAI HARD 2: CHAI HARDER. RT & FOLLOW us to win two tins of yummy chai! #looseleaf #teatime #tealove #tea http://t.co/BbBiGKY6w1

— nourishtea (@nourishtea) August 28, 2013
CHAI HARD WITH A VENGEANCE: RT & FOLLOW us to win two tins of nourishtea! #looseleaf #teatime #tealove #giveaway http://t.co/8SasZtYcAx

— nourishtea (@nourishtea) August 29, 2013
This promotion is in no way sponsored, endorsed or administered by, or associated with, Twitter. We hereby release Twitter of any liability. To enter the competition, you must be: (a) a Canadian resident; (b) the age of majority in your Province; (c) follow @nourishtea on Twitter and (d) retweet one of the qualifying tweets. No purchase necessary. The closing date is Sunday, September 1st, 2013, 12:00 am EST. The draw will take place on September 2nd. Prize is not exchangeable for cash or any other prize. Incorrectly completed entries will be disqualified. Winner will be contacted after the giveaway ends.
Revitalize an old teacup and saucer with this easy project!
You will need:
1. Teacup and saucer
2. Microwavable wax (available at most craft stores)
3. A disposable container to heat the wax
4. Candle wicks with metal base (slightly taller than the top of the cup)
5. Wooden skewers
6. Tape
7. Essential oils (optional)
Directions:
1. Wash and dry the teacup very well.
2. Put the wick in the centre of the teacup. Pin the top of the wick in between two wooden skewers. Wrap the tape around each side making sure the wick is pinched securely.
3. Heat the wax according to the instructions on the package. Once heated, add a few drops of scented oil and stir quickly using a wooden skewer or plastic spoon.
4. Pour the wax into the teacup.
5. Trim wick to 1/4″
6. Let sit until the wax is cool and solid.
Hint: this candle would make a great gift for a tea or craft lover!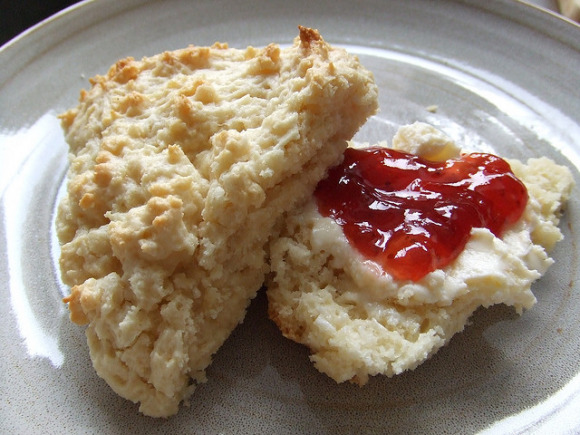 Tea and scones. Has there ever been a more perfect pair?
These rich cream scones are a must bake for your low tea party! (How to host a tea party click here)
You will need:
What nourishtea would you pair these scones with? Tweet us @nourishtea.
(Recipe via Martha Stewart)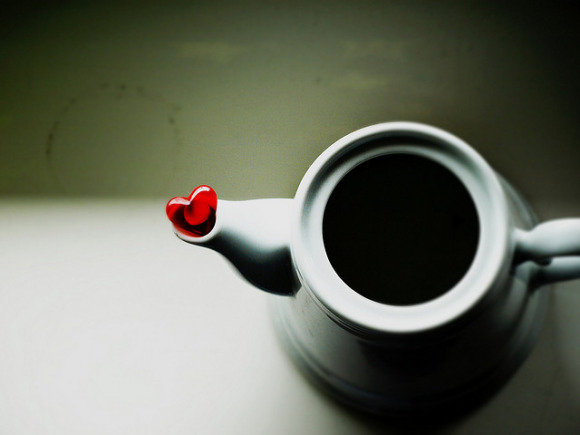 Valentine's Day is just around the corner, so treat your Swee'TEA' to a romantic tea party for two.
Here's how:
Set the mood with soft lighting, music and flowers.
Spare no details in setting the table just right. May we suggest sprinkling rose petals over the table and using your finest tea set.
Tempt them with a treat. No dessert spells out 'romance' quite like chocolate covered strawberries (Recipe here)
And of course, prepare a pot of their favourite nourishtea.
With such special treatment, your Valentine is sure to melt!
Happy Valentine's Day tea lovers.
A lemon wheel is the best way to infuse your cup of tea with lovely lemon flavour.
Unlike a wedge, the wheel will float in your cup and enhance your nourishtea with every sip.
Cut both ends off of the lemon, and begin to thinly slice horizontally across the fruit. Don't slice the lemons too thin, or they won't present very nicely.
If you're hosting others, arrange lemon wheels on a silver tray, with a small fork for serving. Remember to remove any seeds with a paring knife.
Do you take lemon with your tea? Tell us on twitter @nourishtea.
Photo by Tom Tolkien
From our cup to yours; wishing you a safe and happy holiday season!
Cheers,
Your friends at nourishtea