Tag :
black tea
Feeling stressed out? We've got you covered– here's our list of top 3 teas to help you mellow out.
Black tea
A dark black tea can help fight hormones that are released when you're stressed out. The active ingredient in tea that helps with hormone balance is called 'flavanoids'. Try a cup of our Sun Soaked Darjeeling and take a deep breath.
Green tea
Many people swear by green tea for overall good health, but did you know catechins and antioxidants in green tea can help reduce stress. How about a hot cup of our Jasmine Dragon Phoenix Pearls and a good book?
Herbal
Long day? Chamomile is a time trusted herb that can help you relax. Sweeten your cup of Warming Chamomile tea with a spot of honey and kick up your feet.
Which tea helps you relax? Tell us in the comments, or @nourishtea.
Sources:
Black tea | Green tea | Herbal tea
Nothing says 'Sunday morning' like stack of hot pancakes topped with butter and real Canadian maple syrup. Serve with a pot of our Canadian Breakfast tea and indulge in the perfect Sunday morning breakfast.
You will need:
1 cup all-purpose flour
2 tbsp white sugar
2 tsp baking powder
1 tsp salt
1 egg, beaten
1 cup milk
Directions:
In a large bowl, mix flour, sugar, baking powder and salt. Make a well in the center, and pour in milk, egg and oil. Mix until smooth. Heat a lightly oiled griddle or frying pan over medium high heat. Pour or scoop the batter onto the griddle, using about ¼ cup for each pancake. Brown on both sides and serve hot. Top with pure Canadian maple syrup.
(Makes 4 servings)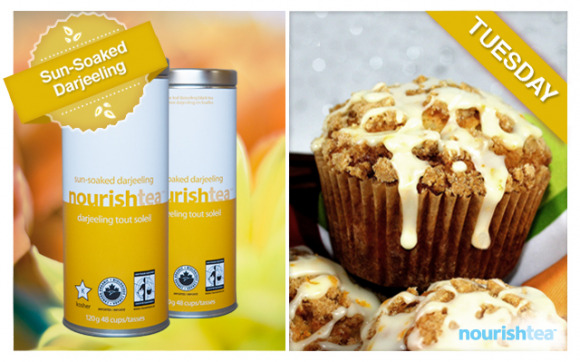 A breakfast favourite, but in muffin form! Start your day off cinnamon-y sweet with this recipe and a cup of our Sun Soaked Darjeeling tea. You can even prepare these muffins the night before, just seal in an airtight container and they're ready to go for the next morning.
You will need:
1½ cups all-purpose flour
½ cup white sugar
1½ tsp baking powder
¼ tsp nutmeg
1/8 tsp salt
½ cup milk
1 egg, lightly beaten
1/3 cup butter, melted
Topping:
1/3 cup butter, melted
¼ cup white sugar
½ tsp cinnamon
Directions:
1. Preheat oven to 350 degrees. Line muffin pan with paper cups.
2. In a medium mixing bowl, stir together flour, 1/2 cup sugar, baking powder, nutmeg and salt. Make a well in the center of the mixture.
3. Stir together egg, milk and 1/3 cup melted butter. Add egg mixture to flour mixture; stir until just moistened (batter may be lumpy).
4. Spoon batter into prepared muffin cups.
5. Bake in preheated oven for 20 to 25 minutes. Meanwhile, combine 1/4 cup sugar, cinnamon When muffins are finished baking, dip tops in the melted butter, and then in the cinnamon sugar mixture. Serve warm.
(Yields 12 muffins)
Recipe.
Did you know March is 'Craft Month'? As an hommage to our crafty tea fans, we thought it would be fun to share a tutorial on how to paint with tea!
Before you get started with your painting, you'll need a few supplies that can be purchased at an art supply store.
You will need:
Water colour paper (any size)
Paint brushes (at least 1 small brush for detail)
Containers or cups for different strength teas
Boiling water
Black tea leaves
Before you get started, you may want to get an image you like to use for reference. Or, you can let the creativity flow, and paint freestyle!
 First you will need to boil water and brew a few 'colours' of tea. We recommend to brew 3 different shades of tea. As a rule of thumb, remember more water and less tea will result in a lighter colour; less water and more tea will result in a darker colour. For the very light shade, you may want to remove the leaves with a spoon so the tea doesn't get darker as you paint.
Use a scrap piece of paper to test the strength of the colours. If they're too dark, you can always add more water.
You may want to set up some newspaper under your painting surface, as dark tea can stain.
Start painting! We recommend painting on a flat surface as the paint is simply water, and can run very easily.
Painting via Etsy
Happy March, tea drinkers!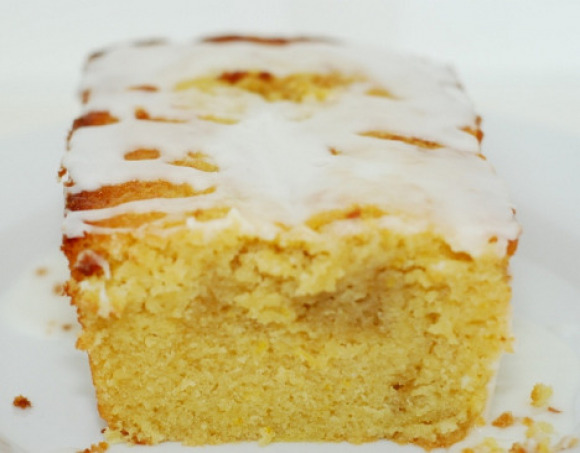 Black tea and a slice of lemon have been married for a long time, and for good reason: the make a wonderfully complimentary pair.
Turn up the taste by serving this Lemon Lemon Loaf with our Canadian Breakfast tea.
You read that right, Lemon Lemon. This loaf is packed with so much flavour, naming it once wasn't enough! Get the recipe here.
Tea. Earl Grey. Hot.
We're giving away two tins of our very own Duke of Earl! This black tea is a crowd pleaser and has a rich aroma of Italian bergamot that Earl Grey fans love.
All you have to do to enter is follow @nourishtea on Twitter and retweet a contest tweet to enter!
Tea. Earl Grey. Hot. RT & FOLLOW us to win two tins of nourishtea! #looseleaf #tea twitter.com/nourishtea/sta…

— nourishtea (@nourishtea) January 31, 2013
RT & FOLLOW us to win two tins of Earl Grey nourishtea! #looseleaf #tea #giveaway twitter.com/nourishtea/sta…

— nourishtea (@nourishtea) February 4, 2013
Don't forget to Like us on Facebook for updates on more contests!
UPDATE: Thanks to everyone to joined, and congrats to @ItsDonnaG for winning our contest! Stay tuned for our next tea giveaway!
Terms & Conditions
This promotion is in no way sponsored, endorsed or administered by, or associated with, Twitter. We hereby release Twitter of any liability. To enter the competition, you must be: (a) a Canadian resident; (b) the age of majority in your Province; (c) follow @nourishtea on Twitter and (d) retweet one of the qualifying tweets. No purchase necessary. The closing date is February 4 at 11:59PM EST. The draw will take place on February 5. Prize is not exchangeable for cash or any other prize. Incorrectly completed entries will be disqualified. Winner will be contacted after the giveaway ends.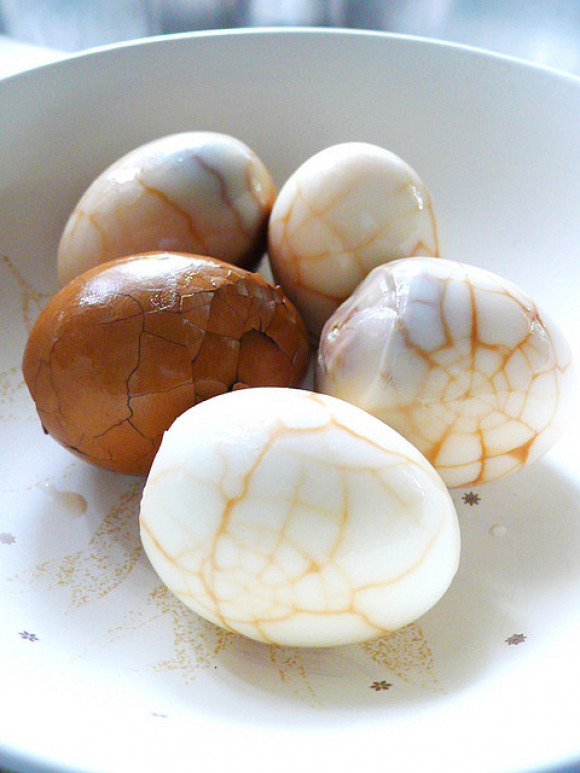 Our tea comes from all corners of the world: Japan, Sri Lanka, India, Egypt, South Africa, USA and many from China.
In celebration of the Chinese New Year (Lunar New Year), we thought it would be fun to share a special recipe!
The literal translation of tea eggs is "tea leaf egg" and that's exactly how this treat is made. A tea egg is a flavourful, fragrant traditional Chinese snack. Nicknamed marble eggs, the unique pattern is created by the cracked shell during the curing process.
We want to see how your tea eggs turned out, tweet us a picture @nourishtea.
You will need:
8 eggs
2 quarts cold water
3 tbsp loose leaf black tea (We suggest our Duke of Earl)
3 tbsp soy sauce
2 tsp Chinese five spice
2 whole star anise
1 stalk green onion, tied in a knot
1 thumb-size slice of ginger
Directions:
Place the eggs in a medium saucepan and cover with cold water. Bring to a boil at high heat.
After reaching boiling point, reduce to a simmer for 15 mins
Drain the water and rinse eggs in cold water
When the eggs are cooled, crack the shells, but leave them on (you may want to roll the eggs on the counter – place a towel down first)
Put the eggs back into the medium saucepan with 2 quarts of cold water, Duke of Earl tea, soy sauce, Chinese five spice, star anise, green onion, and ginger.
Bring the contents to a boil again then reduce to a simmer. Let simmer for an hour.
Remove the pan from the heat and let the eggs cool completely in the liquid.
Peel the shells from the eggs and serve whole.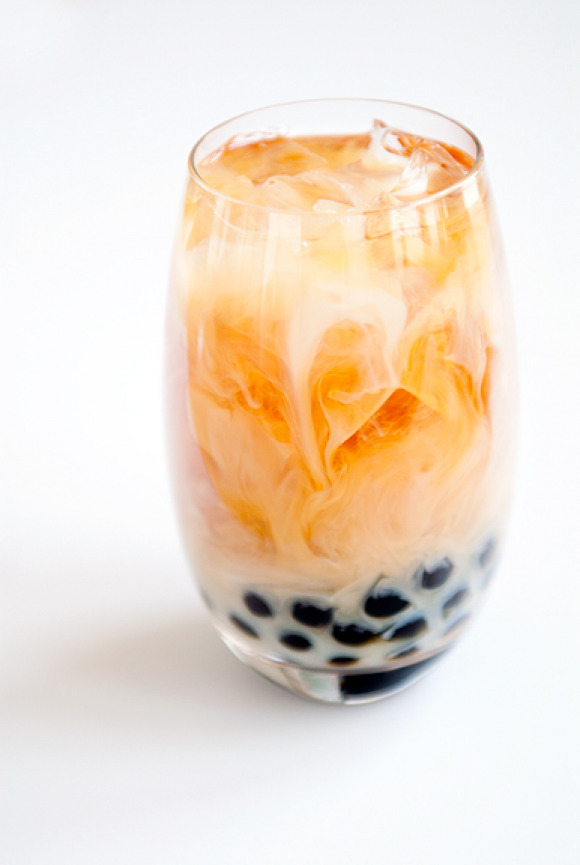 It's tea time, with a twist! Try experimenting with this recipe for milk bubble tea. You can customize your brew by using different nourishteas, flavoured milk or syrups.
You will need:
1 tsp black tea – Try our Canadian Breakfast or Sun Soaked Darjeeling
8 oz boiling water
1/4 cup boba (pearl tapioca), cooked
ice
milk (dairy, soy, almond, rice, etc.)
sugar or sweetener (optional)
Directions:
Steep the tea leaves in a cup of boiling water to desired strength.
Remove the leaves, and sweeten if desired.
Place boba at the bottom of a large glass and top with ice.
Allow the tea to cool down for a few minutes before pouring over ice and boba.
Top with milk of your choice.
Serves 1.
Recipe adapted from here.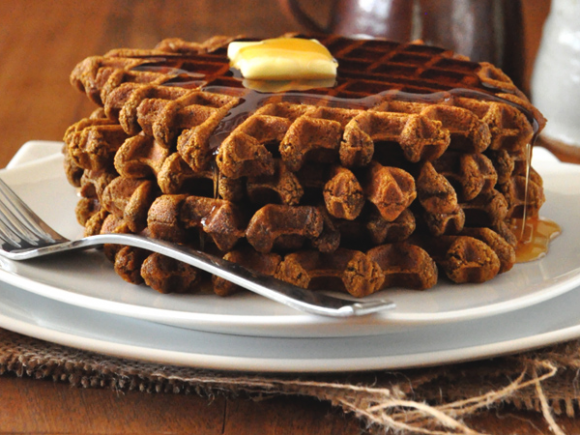 Enjoy these decadent gingerbread waffles with a hot cup of your favourite nourishtea. We recommend a full bodied black tea like our Duke of Earl to best compliment the spicy flavours in this recipe. Your winter will feel warmer in no time!
You will need:
1 1/4 cup whole wheat pastry flour* (or 3/4 cup of unbleached all purpose flour and 1/2 cup of whole wheat flour mixed)
1/2 Tbsp baking powder
1/4 cup + 1 Tbsp brown sugar
1 tsp cinnamon
1 tsp ginger
1/4 cup pumpkin puree
1 egg
Slightly less than 1 cup of milk (Between 3/4 and a full cup)
2 Tbsp molasses
1 Tbsp canola oil
Directions:
Preheat waffle iron.
Add egg, molasses, pumpkin puree, oil, brown sugar and whisk. Add milk and stir once more.
Add flour, baking powder and spices to a sifter and sift over wet ingredients. Stir until just combined.
Ideally, let batter rest for 5 minutes before cooking.
Once preheated, generously spray the waffle iron with non-stick cooking spray and spoon about 1/2 cup of the batter onto the center of the iron and cook according to your machine's instructions. (set to darker setting if you prefer crispier waffles)
Once done, remove and place on cooling rack to let steam roll of and crisp up a bit.
Serve warm with butter and maple syrup.
Serves: 4 waffles
These spicy little cupcakes are an irresistible autumn treat. Nutmeg, cinnamon and cloves work together in perfect harmony for the perfect fall flavour melody.
We recommend serving them with our Sun Soaked Darjeeling tea, but any black nourishtea will compliment nicely.
Brown Butter Pumpkin Cupcakes 
You will need:
3/4 cup (1 1/2 sticks) unsalted butter, room temperature
1 2/3 cups all-purpose flour
2 teaspoons baking powder
1 teaspoon salt
1/2 teaspoon ground cinnamon
1/4 teaspoon freshly grated nutmeg
1/8 teaspoon ground gloves
1 cup canned pumpkin puree (not pie filling)
1 cup packed light brown sugar
1/2 cup granulated sugar
2 large eggs
Directions:
Preheat oven to 325 degrees. Line muffin tins with paper liners. In a saucepan, melt the butter over medium-low heat and continue to cook, swirling occasionally, until butter turns golden brown, Skim foam from top, and remove from heat. Pour into a bowl to stop the cooking, leaving any burned sediment behind; let cool.
Whisk together flour, baking powder, salt, cinnamon, nutmeg, and cloves. In another bowl, whisk together the pumpkin puree, both sugars, eggs, and brown-butter mixture. Add the flour mixture, and whisk until just combined.
Divide batter evenly among lined cups, filling each three-quarters full. Bake, rotating tins halfway through, until a cake tester inserted in centers comes out clean, about 20 minutes. Transfer tins to wire racks to cool completely before removing cupcakes. Frost with CInnamon Cream Cheese Frosting. Makes 15 cupcakes.
Cinnamon Cream Cheese Frosting
You will need:
1 stick unsalted butter, room temperature
8 ounces cream cheese, room temperature
3 cups confectioners' sugar, sifted
1 teaspoon cinnamon
1 teaspoon pure vanilla extract
Directions:
Beat butter and cream cheese with a mixer on medium-high speed until fluffy, 2 to 3 minutes. Reduce speed to low. Add sugar, 1 cup at a time, and then cinnamon and vanilla; mix until smooth.