Tag :
DIY
Did you know March is 'Craft Month'? As an hommage to our crafty tea fans, we thought it would be fun to share a tutorial on how to paint with tea!
Before you get started with your painting, you'll need a few supplies that can be purchased at an art supply store.
You will need:
Water colour paper (any size)
Paint brushes (at least 1 small brush for detail)
Containers or cups for different strength teas
Boiling water
Black tea leaves
Before you get started, you may want to get an image you like to use for reference. Or, you can let the creativity flow, and paint freestyle!
 First you will need to boil water and brew a few 'colours' of tea. We recommend to brew 3 different shades of tea. As a rule of thumb, remember more water and less tea will result in a lighter colour; less water and more tea will result in a darker colour. For the very light shade, you may want to remove the leaves with a spoon so the tea doesn't get darker as you paint.
Use a scrap piece of paper to test the strength of the colours. If they're too dark, you can always add more water.
You may want to set up some newspaper under your painting surface, as dark tea can stain.
Start painting! We recommend painting on a flat surface as the paint is simply water, and can run very easily.
Painting via Etsy
Happy March, tea drinkers!
Tags: art, black tea, craft, craft month, crafts, DIY, nourishtea, paint, painting, project, tea
This entry was posted on Friday, March 1st, 2013 at 7:00 pm
You can follow any responses to this entry through the RSS 2.0 feed.
4:30 pm , February 15, 2013
Comments Off

on DIY Teacup Candles
Revitalize an old teacup and saucer with this easy project!
You will need:
1. Teacup and saucer
2. Microwavable wax (available at most craft stores)
3. A disposable container to heat the wax
4. Candle wicks with metal base (slightly taller than the top of the cup)
5. Wooden skewers
6. Tape
7. Essential oils (optional)
Directions:
1. Wash and dry the teacup very well.
2. Put the wick in the centre of the teacup. Pin the top of the wick in between two wooden skewers. Wrap the tape around each side making sure the wick is pinched securely.
3. Heat the wax according to the instructions on the package. Once heated, add a few drops of scented oil and stir quickly using a wooden skewer or plastic spoon.
4. Pour the wax into the teacup.
5. Trim wick to 1/4″
6. Let sit until the wax is cool and solid.
Hint: this candle would make a great gift for a tea or craft lover!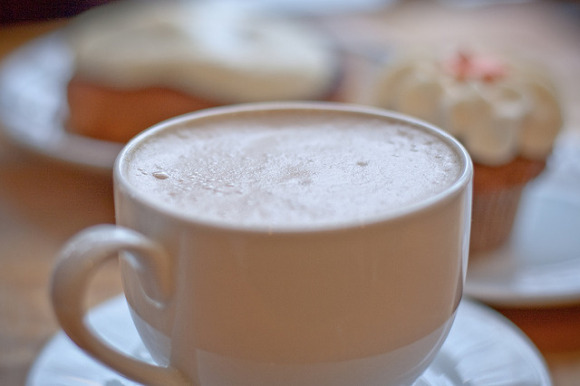 We didn't name it Yummy Chai for nothing! This DIY chai tea latte will rock your world in four easy steps. Here's what you need:
– 3 tsp Yummy Chai nourishtea
– 12 oz of boiling hot water
– 2 tsp of brown sugar
– 1/2 cup of milk
– ground cinnamon (optional)
1. Steep
Measure 3 tsp of nourishtea Yummy Chai into an infuser. Steep in 12 oz of water for about 5 minutes.
2. Sweet
Remove the infuser and add brown sugar (or honey) to the tea while it is still very hot.
3. Foam
Make your own foam in the microwave, all you need is milk, a glass jar with a lid, and a microwave.
Fill the jar no more than halfway to allow room for the foam. Put the lid on and shake for 30 seconds. The milk will become frothy and double in size. Take off the lid and microwave for 30 seconds, and the foam will rise to the top of the jar.
Using a spoon, hold back the foam at the top and pour the milk evenly divided into two cups.
4. Top
Top the warm milk with the tea slowly, then scoop the remaining foam from the jar on top of the lattes. You can sprinkle, nutmeg or cinnamon over the foam.
(serves 2)
Foam source.
The rich and spicy smell of this potpourri reminds us of a hot cup of our Yummy Chai tea! For all you craf-TEA folks, this DIY project is fun for a rainy day.
You will need:
Dried rose petals
1⁄4 cup whole cloves
1 cup whole allspice
10 (3-inch) cinnamon sticks, broken into pieces
8 small bay leaves
4 whole nutmeg
3 tbsp anise
2 tbsp whole cardamom pods
Mix ingredients in a large bowl, stirring well. Store the extra potpourri in a zippered bag to preserve freshness. You can even house the finished product in a vintage teacup and saucer for a dainty display.
Recipe adapted from Woman's Day.