Tag :
cookies
All green everything! We're celebrating St. Patrick's Day with a cup of green nourishtea and these minty cookies.
You will need:
1 (1 pound 1.5 ounce) pouch sugar cookie mix
1/2 cup butter or margarine, softened
1/4 teaspoon mint extract
6 drops green food colouring
1 egg
1 cup creme de menthe baking chips
1 cup semisweet chocolate chips
Directions:
Mix cookie mix, butter, extract, food color and egg in bowl, until soft dough forms.
Stir in creme de menthe baking chips and chocolate chips.
Use a spoon and drop dough 2″ apart on a ungreased cookie sheet.
Bake at 350 degrees F for 8 to 10 minutes. Cool 3 minutes; remove from cookie sheet to wire rack.
Store at room temperature in a sealed container.
Cheers, tea lovers!
Tags: cookies, Green, green tea, holiday, mint chocolate chip, nourishtea, Recipe, St. Patrick's Day, St. Patty's
This entry was posted on Sunday, March 17th, 2013 at 11:00 am
You can follow any responses to this entry through the RSS 2.0 feed.
1:47 pm , February 12, 2013
Comments Off

on Soft Strawberry Cookies
We gave some hints on throwing the perfect tea party for your swee'TEA' here, but what tea party is complete with out cookies?!
These soft strawberry cookies taste best dunked in our Sweet Berry Breeze tea.
Happy Valentine's Day tea lovers!
You will need:
1 box strawberry cake mix
1 teaspoon baking powder
2 large eggs
1/3 cup vegetable/canola oil
1/2 teaspoon vanilla extract
Directions:
1. Preheat oven to 350F. Line large baking sheet with parchment paper.
2. In a large bowl, mix together the cake mix and baking powder. Set aside. In a smaller bowl, whisk together the eggs, oil, and vanilla by hand. Add the egg mixture to the cake mixture and stir to form a dough- stir vigorously until all of the pockets of dry cake mix are gone.
3. Drop rounded balls of dough, about 2.5 Tablespoons each, onto prepared baking sheet. Make sure the balls of dough are taller than they are wide.
4. Bake for 10 minutes – do not let the cookies get brown.  Allow to cool on baking sheet for 3 minutes; they will  be very soft at first. As they cool, the tops may settle down; press them down gently with your fingers if they are not sinking much. Transfer to a wire rack to cool completely.
(Yields about 2 dozen cookies)
Recipe adapted from here.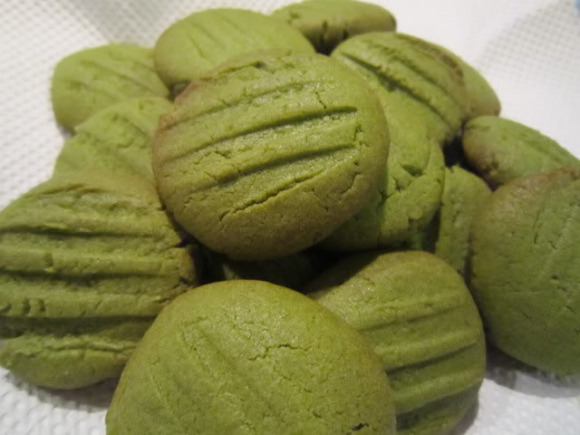 Use our Happy Matcha powder to make these sweet green tea cookies. Here's what you need:
3/4 cup (2.25 oz) Confectioners sugar
5 oz Unsalted butter, cut into cubes
1 3/4 cup (8.5 oz) All-purpose flour
3 Large egg yolks
1.5 tbsp Matcha (powdered green tea)
1 cup Granulated sugar (for coating)
Yield (2" leaf shape): Approx 25
Directions:
Preheat the oven to 350F. Line a sheet pan with parchment paper.
Whisk the confectioner's sugar and green tea together in a bowl.
Add the butter and green tea/sugar mixture to the bowl of a stand mixer fitted with the paddle attachment. Mix until smooth and light in color.
Add the flour and mix until well combined.
Add the egg yolks and mix just until the eggs are fully incorporated and a mass forms.
Form the dough into a disk and chill in the refrigerator until firm (about 30 minutes).
Roll the dough out to ½" thickness.
Cut the dough with a leaf cookie cutter.
Toss each cut cookie in a bowl of granulated sugar to coat.
Place the sugar-coated cookie on a parchment lined pan. Bake at 350F for 12-15 minutes, or until slightly golden around the edges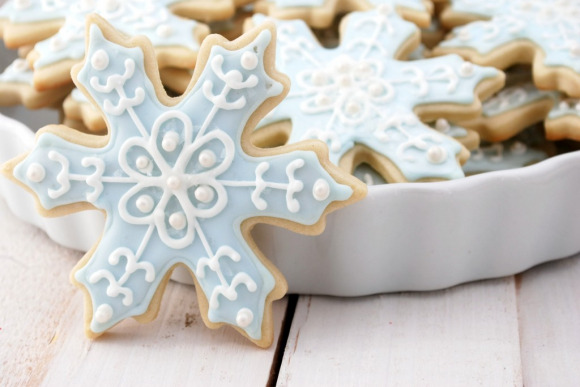 10:14 am , December 1, 2012
Comments Off

on Welcome, December
In honour of the first day of December, we thought we'd share this recipe for snowflake sugar cookies. This recipe can be adapted with different colours and shapes to take you through the holiday season.
We'll be dunking these cookies in our nourishtea all December long!
Get the recipe here.
Tags: cookies, December, holidays, Recipe, recipes, royal icing, snowflake, sugar cookie, tea
This entry was posted on Saturday, December 1st, 2012 at 10:14 am
You can follow any responses to this entry through the RSS 2.0 feed.