Tag :
Chamomile
Feeling stressed out? We've got you covered– here's our list of top 3 teas to help you mellow out.
Black tea
A dark black tea can help fight hormones that are released when you're stressed out. The active ingredient in tea that helps with hormone balance is called 'flavanoids'. Try a cup of our Sun Soaked Darjeeling and take a deep breath.
Green tea
Many people swear by green tea for overall good health, but did you know catechins and antioxidants in green tea can help reduce stress. How about a hot cup of our Jasmine Dragon Phoenix Pearls and a good book?
Herbal
Long day? Chamomile is a time trusted herb that can help you relax. Sweeten your cup of Warming Chamomile tea with a spot of honey and kick up your feet.
Which tea helps you relax? Tell us in the comments, or @nourishtea.
Sources:
Black tea | Green tea | Herbal tea
Tags: black tea, catechins, Chamomile, de-stress, destress, green tea, herbal tea, jasmine, nourishtea, stress relief, tea
This entry was posted on Thursday, May 16th, 2013 at 1:28 pm
You can follow any responses to this entry through the RSS 2.0 feed.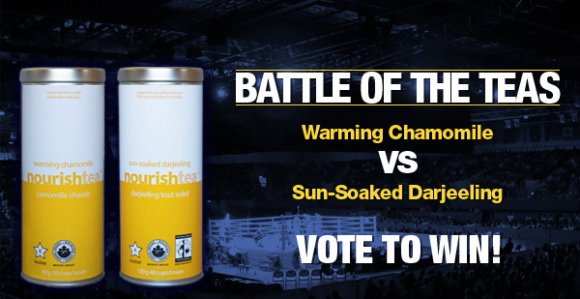 Spring is almost here! In the meantime, we have two of our teas duking it out for the title of Anti-Winter Tea.
In the yellow corner, straight from Egypt and puts everyone right to sleep: Warming Chamomile!
In the slightly-darker-shade-of-yellow, the full-bodied Himalayan sensation: Sun-Soaked Darjeeling!
Who will come out on top? YOU decide with your vote.
VOTE NOW on our Facebook page and you could WIN A TIN of your favourite!
Don't forget to Like us on Facebook and Follow us on Twitter for more contest updates!
Terms and Conditions
This promotion is in no way sponsored, endorsed or administered by, or associated with, Facebook. We hereby release Facebook of any liability. To enter the competition, you must be: (a) a Canadian resident; and (b) the age of majority in your Province. No purchase necessary. The closing date is March 10 at 11:59PM. The draw will take place on March 11. Prize is not exchangeable for cash or any other prize. Incorrectly completed entries will be disqualified. Winner will be contacted after the giveaway ends.
We're big fans of our Warming Chamomile tea because it tastes great and does wonderful things for the body.
Here's our top 5 benefits:
Helps you sleep
Relieves a sore stomach
Boosts immunity
Helps relieve stress and anxiety
Aids in soothing tense muscles and cramps