Tag :
breakfast
Nothing says 'Sunday morning' like stack of hot pancakes topped with butter and real Canadian maple syrup. Serve with a pot of our Canadian Breakfast tea and indulge in the perfect Sunday morning breakfast.
You will need:
1 cup all-purpose flour
2 tbsp white sugar
2 tsp baking powder
1 tsp salt
1 egg, beaten
1 cup milk
Directions:
In a large bowl, mix flour, sugar, baking powder and salt. Make a well in the center, and pour in milk, egg and oil. Mix until smooth. Heat a lightly oiled griddle or frying pan over medium high heat. Pour or scoop the batter onto the griddle, using about ¼ cup for each pancake. Brown on both sides and serve hot. Top with pure Canadian maple syrup.
(Makes 4 servings)
With a little more time in the morning, why not try something special in the kitchen? We love these breakfast burritos, especially topped with hot sauce. We've paired this recipe with our Cresting Cranes of Legend tea because it's neutral flavour won't overwhelm the spices in the burritos. Let's eat!
You will need:
1 pack Italian sausages
12 eggs
1/4 tsp pepper
1 pinch salt
1 cup shredded old Cheddar cheese
1/4 cup chopped fresh coriander
1 green pepper, diced
6 large flour tortillas
2 cups salsa
Directions
1. With tip of knife, slit casing down length of sausage; push meat into large skillet. Cook over medium-high heat, breaking up with spoon, for about 5 minutes or until no longer pink; drain off fat.
2. Lightly beat together the eggs, pepper and salt; pour into pan with sausage and cook until beginning to set. Gently draw spatula across bottom of pan to form large soft curds; cook for about 3 minutes or until eggs are thickened and moist but no visible liquid remains. Stir in half of the cheese and the coriander.
3. Spoon egg mixture down centre of each tortilla; top with salsa, roll into a burrito.
4. Place seam down in a greased 13×9 glass baking dish. Sprinkle the remaining cheese down the centre of the tortillas.
5. Bake in the oven at 400°F for 10 to 15 minutes or until heated through.
6. Meanwhile, stir green pepper and remaining coriander into remaining salsa. Serve as a side to burritos.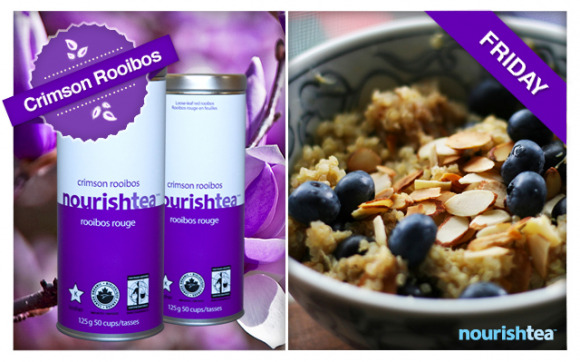 This hearty breakfast bowl will give you all the energy you need to conquer Friday. Try it served with a hot cup of our Crimson Rooibos tea, and you're good to go!
You will need:
½ cup quinoa
½ tsp cinnamon
¼ tsp nutmeg
1 tsp brown sugar
¼ cup dried cranberries
¼ cup roasted walnuts
½ cup milk
Directions:
Prepare quinoa according to the package directions. Stir in sugar and spices, then cranberries and walnuts. Top off your breakfast bowl with milk of your choice. There you have it, a hot and healthy breakfast cereal that's simple to make, and tastes great.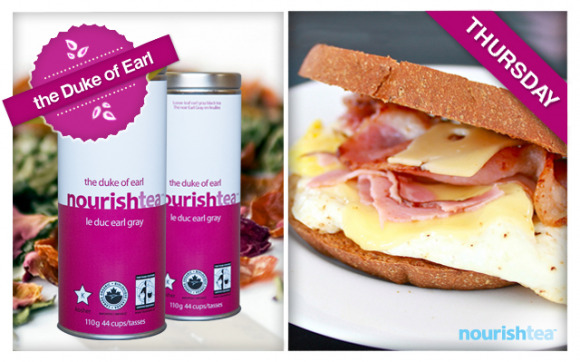 Who says sandwiches are just for lunch? This Italian inspired breakfast sandwich is satisfying and simple. Enjoy with a hot cup of our Duke of Earl tea and repeat after us: delizioso!
You will need:
2 slices of bread
1 slice of provolone cheese
A few slices of thinly sliced salami
1 egg
Freshly sliced tomato
Directions:
1. Spray a small pan with cooking spray and fry 1 egg until it is over-medium (yolk will be a bit firm).
2. In a toaster oven place the two slices of bread in a toaster oven. Place the cheese on one half of the bread. Toast until desired crispiness or until cheese melts.
3. While bread is toasting, slice a tomato.
4. Assemble the sandwich with the cheesy piece of bread on the bottom, the egg, and then layer remaining meat and tomato. Top with mayo or mustard if desired.
This berry powerful breakfast will give you enough gusto to make it through humpday.
You will need:
½ cup Greek Yogurt
Granola Ingredients:
5 cups old-fashioned rolled oats
3 cups almonds, coarsely chopped
1 cup sunflower seeds
3/4 cup untoasted sesame seeds
1/2 cup packed light brown sugar
2 tsp ground cinnamon
1 tsp ground ginger
1 tsp sea salt
3/4 cup unsweetened applesauce
1/3 cup rice syrup
1/4 cup honey
2 tbsp vegetable oil
Directions:
1. Preheat the oven to 300F (150C).
2. In a very large bowl, mix together the flaked grains or oats, almonds, sunflower and sesame seeds, brown sugar, cinnamon, ginger, and salt.
3. In a small saucepan, warm the fruit puree with the rice syrup, honey, and oil.
4. Mix the fruit mixture into the dry ingredients until thoroughly dispersed, then divide and spread the mixture evenly on two baking sheets.
5. Bake the granola for about 45 minutes, stirring every ten minutes, until the granola is deep golden brown.
6. Remove from oven, then cool completely.
7. Store in a large, airtight container. Keeps for up to one month.
(Yields about 1kg)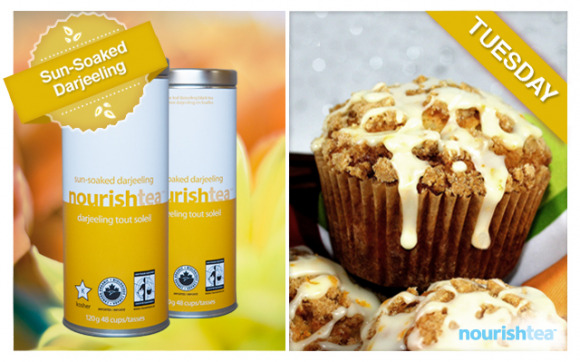 A breakfast favourite, but in muffin form! Start your day off cinnamon-y sweet with this recipe and a cup of our Sun Soaked Darjeeling tea. You can even prepare these muffins the night before, just seal in an airtight container and they're ready to go for the next morning.
You will need:
1½ cups all-purpose flour
½ cup white sugar
1½ tsp baking powder
¼ tsp nutmeg
1/8 tsp salt
½ cup milk
1 egg, lightly beaten
1/3 cup butter, melted
Topping:
1/3 cup butter, melted
¼ cup white sugar
½ tsp cinnamon
Directions:
1. Preheat oven to 350 degrees. Line muffin pan with paper cups.
2. In a medium mixing bowl, stir together flour, 1/2 cup sugar, baking powder, nutmeg and salt. Make a well in the center of the mixture.
3. Stir together egg, milk and 1/3 cup melted butter. Add egg mixture to flour mixture; stir until just moistened (batter may be lumpy).
4. Spoon batter into prepared muffin cups.
5. Bake in preheated oven for 20 to 25 minutes. Meanwhile, combine 1/4 cup sugar, cinnamon When muffins are finished baking, dip tops in the melted butter, and then in the cinnamon sugar mixture. Serve warm.
(Yields 12 muffins)
Recipe.
With the week just starting out, breakfast is the last thing on a busy mind. Whip up a batch of these all natural granola bars for a healthy meal that will fuel you on-the-go. Bonus: they also make a great afternoon snack!
You will need:
1 cup chopped nuts (almonds, walnuts, pecans)
1/2 cup assorted seeds (pumpkin, poppy, sunflower, sesame)
1/3 cup chopped dried fruit (apricots, mangos and dried cherries and unsweetened coconut)
1 tsp ground cinnamon
1/4 cup honey
Directions:
1. Preheat oven to 325F. Line an 8-inch square pan with foil or parchment paper and coat with cooking spray.
2. In a medium bowl, combine the chopped nuts, seeds, and dried fruit. Add cinnamon and honey, mixing well.
3. Pour mixture into prepared pan. Using wax paper, press down evenly until mixture is tight in pan.
4. Bake 18 minutes. Remove from oven and let cool at least 30 minutes. Use the sides of foil to lift the bars from the pan. Do not try to remove from foil—they will stick. Cut into bars.
Yield: 12-16 servings
Recipe.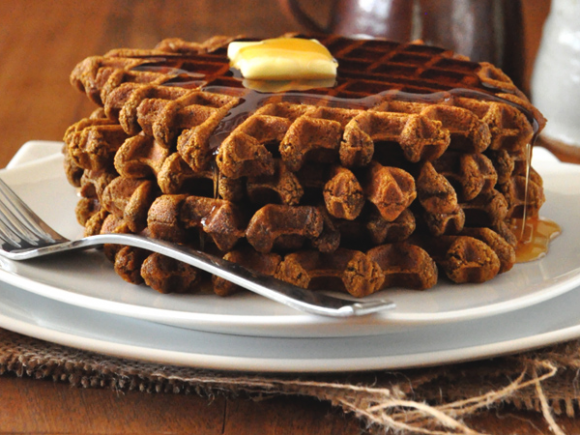 Enjoy these decadent gingerbread waffles with a hot cup of your favourite nourishtea. We recommend a full bodied black tea like our Duke of Earl to best compliment the spicy flavours in this recipe. Your winter will feel warmer in no time!
You will need:
1 1/4 cup whole wheat pastry flour* (or 3/4 cup of unbleached all purpose flour and 1/2 cup of whole wheat flour mixed)
1/2 Tbsp baking powder
1/4 cup + 1 Tbsp brown sugar
1 tsp cinnamon
1 tsp ginger
1/4 cup pumpkin puree
1 egg
Slightly less than 1 cup of milk (Between 3/4 and a full cup)
2 Tbsp molasses
1 Tbsp canola oil
Directions:
Preheat waffle iron.
Add egg, molasses, pumpkin puree, oil, brown sugar and whisk. Add milk and stir once more.
Add flour, baking powder and spices to a sifter and sift over wet ingredients. Stir until just combined.
Ideally, let batter rest for 5 minutes before cooking.
Once preheated, generously spray the waffle iron with non-stick cooking spray and spoon about 1/2 cup of the batter onto the center of the iron and cook according to your machine's instructions. (set to darker setting if you prefer crispier waffles)
Once done, remove and place on cooling rack to let steam roll of and crisp up a bit.
Serve warm with butter and maple syrup.
Serves: 4 waffles