Tag :
valentine
1:47 pm , February 12, 2013
Comments Off

on Soft Strawberry Cookies
We gave some hints on throwing the perfect tea party for your swee'TEA' here, but what tea party is complete with out cookies?!
These soft strawberry cookies taste best dunked in our Sweet Berry Breeze tea.
Happy Valentine's Day tea lovers!
You will need:
1 box strawberry cake mix
1 teaspoon baking powder
2 large eggs
1/3 cup vegetable/canola oil
1/2 teaspoon vanilla extract
Directions:
1. Preheat oven to 350F. Line large baking sheet with parchment paper.
2. In a large bowl, mix together the cake mix and baking powder. Set aside. In a smaller bowl, whisk together the eggs, oil, and vanilla by hand. Add the egg mixture to the cake mixture and stir to form a dough- stir vigorously until all of the pockets of dry cake mix are gone.
3. Drop rounded balls of dough, about 2.5 Tablespoons each, onto prepared baking sheet. Make sure the balls of dough are taller than they are wide.
4. Bake for 10 minutes – do not let the cookies get brown.  Allow to cool on baking sheet for 3 minutes; they will  be very soft at first. As they cool, the tops may settle down; press them down gently with your fingers if they are not sinking much. Transfer to a wire rack to cool completely.
(Yields about 2 dozen cookies)
Recipe adapted from here.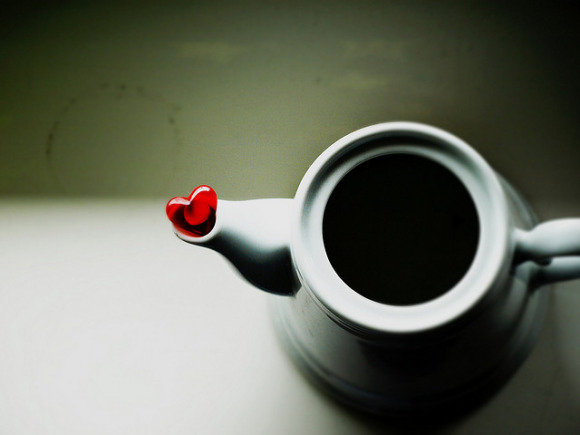 12:42 pm , January 31, 2013
1
Valentine's Day is just around the corner, so treat your Swee'TEA' to a romantic tea party for two.
Here's how:
Set the mood with soft lighting, music and flowers.
Spare no details in setting the table just right. May we suggest sprinkling rose petals over the table and using your finest tea set.
Tempt them with a treat. No dessert spells out 'romance' quite like chocolate covered strawberries (Recipe here)
And of course, prepare a pot of their favourite nourishtea.
With such special treatment, your Valentine is sure to melt!
Happy Valentine's Day tea lovers.