Tag :
recipes
Serves 4
1/2 cup Steaming water
4 teaspoons loose-leaf green tea leaves such as sencha
4 teaspoons honey
4 salmon fillets
Pour the steaming water over the tea leaves in a small bowl and add honey. Cover and steep for 2-3 minutes, strain and discard the leaves. Place the salmon in a pan. Brush with honey tea and pour any remaining tea around the fish. Cover the fish. Let the fish marinate in the refrigerator for a minimum of 1 hour and a maximum of 2 days.
When ready to cook, preheat the oven to 350°F/180°C/gas 4. Place the fish in the pan skin-side down and pan fry until golden. They will not be cooked, transfer the fish to a roasting pan and place in the oven for 5-10 minutes (until the fish is cooked completely).
It is amazing served with sautéed sweet potatoes and a spinach and mushroom medley.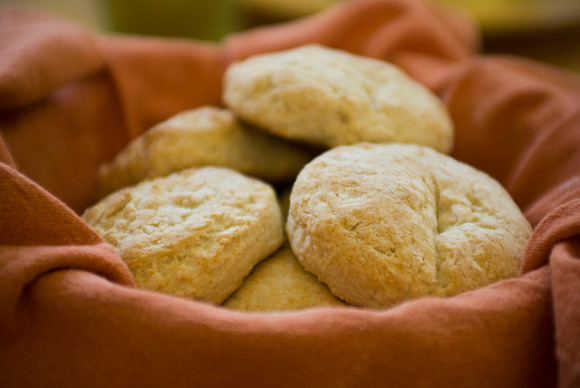 As the name would suggest, theses biscuits are the perfect side to any cup of tea. Unlike scones however, tea biscuits are a lot less sweet because they don't contain any sugar. Dunk them, butter them, or top with jam- enjoy!
You will need:
2 cups all-purpose flour
4 tsp baking powder
1 tsp salt
1/2 cup shortening
3/4 cup milk
Directions:
Preheat the oven to 400 degrees F.
Grease a baking sheet.
Combine flour, baking powder, and salt. Combine in the shortening until the mixture has a crumb-like texture.
Stir in the milk with a fork, until a dough is formed. Knead the dough 8-10 times and roll out to a thickness of at least 1/2 an inch.
Cut into rounds using a cookie cutter or a knife. Place onto greased cookie sheet and allow to rest for a few minutes.
Bake for 12-15 minutes.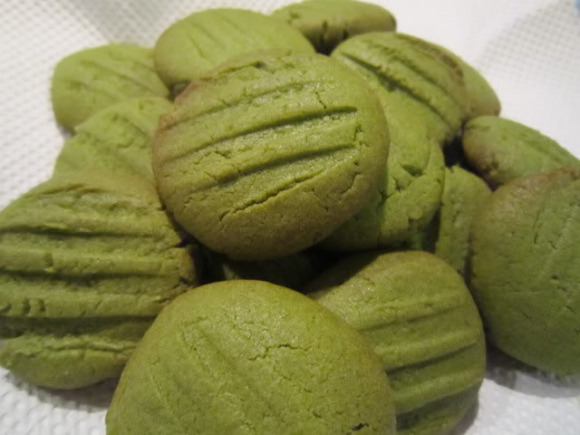 Use our Happy Matcha powder to make these sweet green tea cookies. Here's what you need:
3/4 cup (2.25 oz) Confectioners sugar
5 oz Unsalted butter, cut into cubes
1 3/4 cup (8.5 oz) All-purpose flour
3 Large egg yolks
1.5 tbsp Matcha (powdered green tea)
1 cup Granulated sugar (for coating)
Yield (2" leaf shape): Approx 25
Directions:
Preheat the oven to 350F. Line a sheet pan with parchment paper.
Whisk the confectioner's sugar and green tea together in a bowl.
Add the butter and green tea/sugar mixture to the bowl of a stand mixer fitted with the paddle attachment. Mix until smooth and light in color.
Add the flour and mix until well combined.
Add the egg yolks and mix just until the eggs are fully incorporated and a mass forms.
Form the dough into a disk and chill in the refrigerator until firm (about 30 minutes).
Roll the dough out to ½" thickness.
Cut the dough with a leaf cookie cutter.
Toss each cut cookie in a bowl of granulated sugar to coat.
Place the sugar-coated cookie on a parchment lined pan. Bake at 350F for 12-15 minutes, or until slightly golden around the edges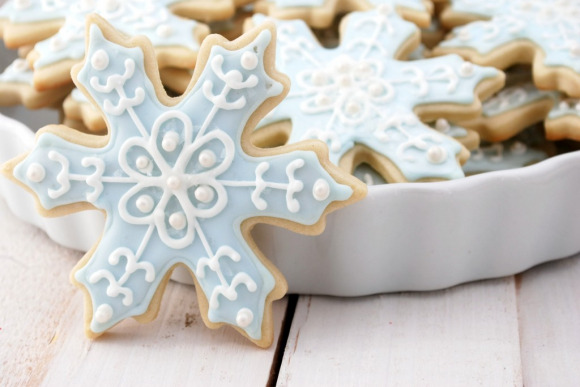 10:14 am , December 1, 2012
Comments Off

on Welcome, December
In honour of the first day of December, we thought we'd share this recipe for snowflake sugar cookies. This recipe can be adapted with different colours and shapes to take you through the holiday season.
We'll be dunking these cookies in our nourishtea all December long!
Get the recipe here.
Tags: cookies, December, holidays, Recipe, recipes, royal icing, snowflake, sugar cookie, tea
This entry was posted on Saturday, December 1st, 2012 at 10:14 am
You can follow any responses to this entry through the RSS 2.0 feed.