Tag :
Green
All green everything! We're celebrating St. Patrick's Day with a cup of green nourishtea and these minty cookies.
You will need:
1 (1 pound 1.5 ounce) pouch sugar cookie mix
1/2 cup butter or margarine, softened
1/4 teaspoon mint extract
6 drops green food colouring
1 egg
1 cup creme de menthe baking chips
1 cup semisweet chocolate chips
Directions:
Mix cookie mix, butter, extract, food color and egg in bowl, until soft dough forms.
Stir in creme de menthe baking chips and chocolate chips.
Use a spoon and drop dough 2″ apart on a ungreased cookie sheet.
Bake at 350 degrees F for 8 to 10 minutes. Cool 3 minutes; remove from cookie sheet to wire rack.
Store at room temperature in a sealed container.
Cheers, tea lovers!
Tags: cookies, Green, green tea, holiday, mint chocolate chip, nourishtea, Recipe, St. Patrick's Day, St. Patty's
This entry was posted on Sunday, March 17th, 2013 at 11:00 am
You can follow any responses to this entry through the RSS 2.0 feed.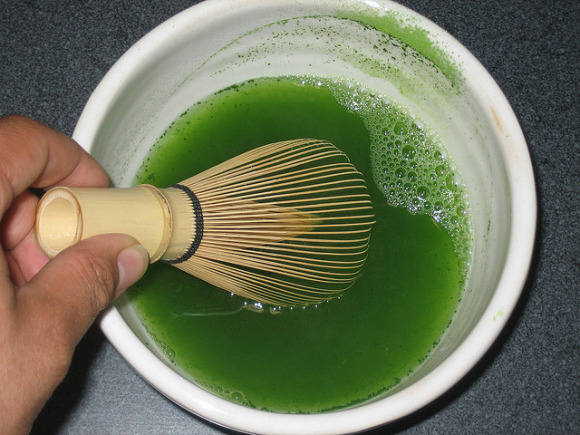 In search of the perfect cup of matcha? You've come to the right place!
You'll need the following supplies:
Happy Matcha nourishtea
A shallow bowl
A teaspoon
Bamboo whisk
Hot water
Directions:
Measure slightly more than 1/2 a teaspoon of matcha into the shallow bowl.
Boil water, and let sit for a few minutes.
Pour about 1/2 a cup of hot water into the bowl.
Hold the bowl steady with one hand, and the whisk in the other.
Using the motion of your wrist, make gentle zig zagging motions with your wrist.
Pull the whisk along the sides of the bowl to remove any clumps of powder.
Continue whisking until foamy bubbles start to form at the top of the tea. (Around 1 minute of whisking)
Remember, this is your cup of matcha! For a thinner cup, use less matcha, for a more full bodied taste, use more powder. Enjoy!