Tag :
cinnamon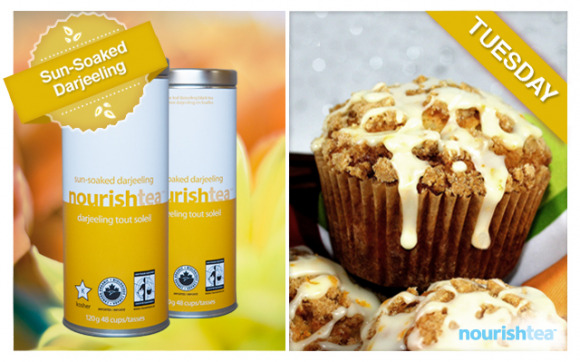 A breakfast favourite, but in muffin form! Start your day off cinnamon-y sweet with this recipe and a cup of our Sun Soaked Darjeeling tea. You can even prepare these muffins the night before, just seal in an airtight container and they're ready to go for the next morning.
You will need:
1½ cups all-purpose flour
½ cup white sugar
1½ tsp baking powder
¼ tsp nutmeg
1/8 tsp salt
½ cup milk
1 egg, lightly beaten
1/3 cup butter, melted
Topping:
1/3 cup butter, melted
¼ cup white sugar
½ tsp cinnamon
Directions:
1. Preheat oven to 350 degrees. Line muffin pan with paper cups.
2. In a medium mixing bowl, stir together flour, 1/2 cup sugar, baking powder, nutmeg and salt. Make a well in the center of the mixture.
3. Stir together egg, milk and 1/3 cup melted butter. Add egg mixture to flour mixture; stir until just moistened (batter may be lumpy).
4. Spoon batter into prepared muffin cups.
5. Bake in preheated oven for 20 to 25 minutes. Meanwhile, combine 1/4 cup sugar, cinnamon When muffins are finished baking, dip tops in the melted butter, and then in the cinnamon sugar mixture. Serve warm.
(Yields 12 muffins)
Recipe.
The rich and spicy smell of this potpourri reminds us of a hot cup of our Yummy Chai tea! For all you craf-TEA folks, this DIY project is fun for a rainy day.
You will need:
Dried rose petals
1⁄4 cup whole cloves
1 cup whole allspice
10 (3-inch) cinnamon sticks, broken into pieces
8 small bay leaves
4 whole nutmeg
3 tbsp anise
2 tbsp whole cardamom pods
Mix ingredients in a large bowl, stirring well. Store the extra potpourri in a zippered bag to preserve freshness. You can even house the finished product in a vintage teacup and saucer for a dainty display.
Recipe adapted from Woman's Day.
These spicy little cupcakes are an irresistible autumn treat. Nutmeg, cinnamon and cloves work together in perfect harmony for the perfect fall flavour melody.
We recommend serving them with our Sun Soaked Darjeeling tea, but any black nourishtea will compliment nicely.
Brown Butter Pumpkin Cupcakes 
You will need:
3/4 cup (1 1/2 sticks) unsalted butter, room temperature
1 2/3 cups all-purpose flour
2 teaspoons baking powder
1 teaspoon salt
1/2 teaspoon ground cinnamon
1/4 teaspoon freshly grated nutmeg
1/8 teaspoon ground gloves
1 cup canned pumpkin puree (not pie filling)
1 cup packed light brown sugar
1/2 cup granulated sugar
2 large eggs
Directions:
Preheat oven to 325 degrees. Line muffin tins with paper liners. In a saucepan, melt the butter over medium-low heat and continue to cook, swirling occasionally, until butter turns golden brown, Skim foam from top, and remove from heat. Pour into a bowl to stop the cooking, leaving any burned sediment behind; let cool.
Whisk together flour, baking powder, salt, cinnamon, nutmeg, and cloves. In another bowl, whisk together the pumpkin puree, both sugars, eggs, and brown-butter mixture. Add the flour mixture, and whisk until just combined.
Divide batter evenly among lined cups, filling each three-quarters full. Bake, rotating tins halfway through, until a cake tester inserted in centers comes out clean, about 20 minutes. Transfer tins to wire racks to cool completely before removing cupcakes. Frost with CInnamon Cream Cheese Frosting. Makes 15 cupcakes.
Cinnamon Cream Cheese Frosting
You will need:
1 stick unsalted butter, room temperature
8 ounces cream cheese, room temperature
3 cups confectioners' sugar, sifted
1 teaspoon cinnamon
1 teaspoon pure vanilla extract
Directions:
Beat butter and cream cheese with a mixer on medium-high speed until fluffy, 2 to 3 minutes. Reduce speed to low. Add sugar, 1 cup at a time, and then cinnamon and vanilla; mix until smooth.