Tag :
scones
1:45 pm , April 29, 2013
Comments Off

on Whipped Strawberry Butter
We can't wait for summer to arrive here at the nourishtea headquarters.
We can't think of anything more summery than the sweet taste of berries, so here's a recipe for strawberry butter to enjoy until the season arrives!
Strawberry Butter
1/2 cup butter, softened
1/4 cup confectioner's sugar
1/4 cup strawberry fruit preserves
Directions:
Combine all of the ingredients together in a large mixing bowl and beat with a mixer until fluffy. This sweet, airy butter tastes delicious over fresh scones or tea biscuits.
(Note: You can use blueberry or wildberry preserves if you prefer.)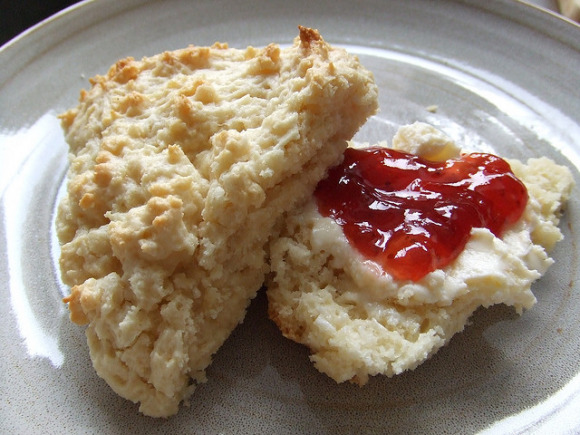 10:12 am , February 2, 2013
1
Tea and scones. Has there ever been a more perfect pair?
These rich cream scones are a must bake for your low tea party! (How to host a tea party click here)
You will need:
1 cup cake flour (not self-rising)
2 cups all-purpose flour, plus more for rolling and cutting
1/2 cup sugar, plus more for sprinkling
2 teaspoons baking powder
1/2 teaspoon baking soda
Salt
1 1/2 sticks cold unsalted butter, cut into small pieces
1 1/4 cups cold heavy cream, plus more for brushing
1/4 teaspoon pure vanilla extract
Directions:
Preheat oven to 375 degrees. Sift together flours, sugar, baking powder, baking soda, and 3/4 teaspoon salt in a large bowl. Cut in butter with a pastry blender or rub in with your fingers. (The largest pieces should be the size of small peas.) With your fingertips, flatten butter pieces into small disks. Cover with plastic wrap, and refrigerate until butter is very firm, about 20 minutes.
Combine cream and vanilla in a small bowl, and stir into flour mixture with a wooden spoon until almost absorbed and dough just comes together. Turn out dough onto a lightly floured work surface; roll out into an 8-by-10-inch rectangle. With a short side facing you, fold rectangle into thirds, as you would a letter. Rotate dough a quarter turn clockwise. Repeat rolling out, folding, and rotating dough 2 more times. With floured hands, pat out dough to a 1 1/4-inch thickness, and cut out as many rounds as possible with a floured 2 1/4-inch round biscuit cutter. Gather scraps, reroll once, and cut out more rounds (you should have a total of 12).
Place scones 2 inches apart on parchment-lined baking sheets. Brush tops with cream, and sprinkle with sugar. Bake until golden brown, 18 to 20 minutes, rotating sheets halfway through. Let cool on sheets. Serve warm or at room temperature.
Cook's note: Scones keep, wrapped in plastic, for 1 day.
What nourishtea would you pair these scones with? Tweet us @nourishtea.
(Recipe via Martha Stewart)
Also known as "afternoon tea" this small meal was traditionally served on low tables. Today, "low" refers to the time tea is served; 3-5pm. Afternoon tea is a fantastic way to spend time with friends chatting and catching up. We're going to take you through all the steps of throwing a delightful low tea party of your very own!
Invite
Low tea is best reserved for small groups. We suggest a party of no more than 6, but ultimately the number of guests is up to you.
A paper invitation is a must. Include essential information like date, time, and dress code. Depending the formality of your party, you may suggest the ladies wear hats and gloves, and the gentleman wear blazers.
Setting
Doilies, lace and fine china all politely declare 'tea party'. If you have fine silver or special china, this is the perfect time to let it shine! If you don't have a set of teacups, try looking at and thrift store where you can find often find a full set, or you can build an eclectic collection of various cups and saucers.
Each guest should have a teacup and saucer, a small plate for food, a teaspoon, a butter knife (for scones) and a cloth napkin.
Food
A three-tiered stand in the centre of the table is the perfect way to present 3 courses; tea sandwiches, scones, and bite sized desserts. The first course is served from the bottom of the tray, working upwards.
Food is best served in small, dainty portions, since low tea is essentially a snack time. Conversation and tea are the main focus, not the food.
Some extras you will need on the table:
Sliced lemons
Sugar bowl
Milk
Butter dish
Tea
The lady of the hour, and the most important detail of the party! We recommend a black tea like our Duke of Earl or Canadian Breakfast. Steep to a medium strength, unless your group has a united specific preference.
Taste your tea first before adding extras.  Remember tea first, then add milk and sugar, or lemon.
Enjoy the tea and good company, cheers!