Tag :
green tea
Serves 4
1/2 cup Steaming water
4 teaspoons loose-leaf green tea leaves such as sencha
4 teaspoons honey
4 salmon fillets
Pour the steaming water over the tea leaves in a small bowl and add honey. Cover and steep for 2-3 minutes, strain and discard the leaves. Place the salmon in a pan. Brush with honey tea and pour any remaining tea around the fish. Cover the fish. Let the fish marinate in the refrigerator for a minimum of 1 hour and a maximum of 2 days.
When ready to cook, preheat the oven to 350°F/180°C/gas 4. Place the fish in the pan skin-side down and pan fry until golden. They will not be cooked, transfer the fish to a roasting pan and place in the oven for 5-10 minutes (until the fish is cooked completely).
It is amazing served with sautéed sweet potatoes and a spinach and mushroom medley.

Feeling stressed out? We've got you covered– here's our list of top 3 teas to help you mellow out.
Black tea
A dark black tea can help fight hormones that are released when you're stressed out. The active ingredient in tea that helps with hormone balance is called 'flavanoids'. Try a cup of our Sun Soaked Darjeeling and take a deep breath.
Green tea
Many people swear by green tea for overall good health, but did you know catechins and antioxidants in green tea can help reduce stress. How about a hot cup of our Jasmine Dragon Phoenix Pearls and a good book?
Herbal
Long day? Chamomile is a time trusted herb that can help you relax. Sweeten your cup of Warming Chamomile tea with a spot of honey and kick up your feet.
Which tea helps you relax? Tell us in the comments, or @nourishtea.
Sources:
Black tea | Green tea | Herbal tea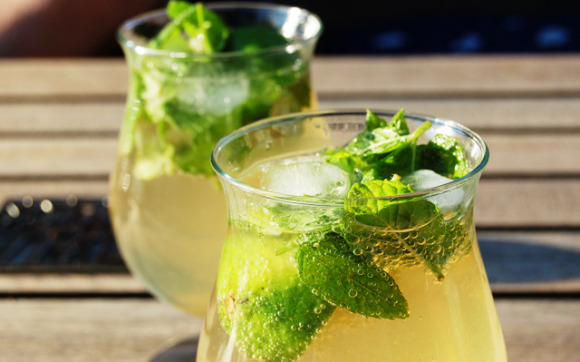 You'll definitely want to bookmark this Green Tea Mojito recipe before the hot summer days hit. Flavours of lime, mint and green tea will cool you down in a flash. Cheers to hot summer days ahead!
You will need:
Juice of 1 lime
4 large spearmint leaves
2 tsp honey or simple syrup
1/2 cup brewed green nourishtea (we like to use The Emerald Path), chilled
Splash of soda water
Sliced cucumber for garnish
Directions:
Muddle the mint in the lime juice in a tall glass. Fill the glass with ice, and pour in your chilled tea. Top with a splash of soda water and stir well. Garnish with a mint leaf and a slice of cucumber.
With the week just starting out, breakfast is the last thing on a busy mind. Whip up a batch of these all natural granola bars for a healthy meal that will fuel you on-the-go. Bonus: they also make a great afternoon snack!
You will need:
1 cup chopped nuts (almonds, walnuts, pecans)
1/2 cup assorted seeds (pumpkin, poppy, sunflower, sesame)
1/3 cup chopped dried fruit (apricots, mangos and dried cherries and unsweetened coconut)
1 tsp ground cinnamon
1/4 cup honey
Directions:
1. Preheat oven to 325F. Line an 8-inch square pan with foil or parchment paper and coat with cooking spray.
2. In a medium bowl, combine the chopped nuts, seeds, and dried fruit. Add cinnamon and honey, mixing well.
3. Pour mixture into prepared pan. Using wax paper, press down evenly until mixture is tight in pan.
4. Bake 18 minutes. Remove from oven and let cool at least 30 minutes. Use the sides of foil to lift the bars from the pan. Do not try to remove from foil—they will stick. Cut into bars.
Yield: 12-16 servings
Recipe.
All green everything! We're celebrating St. Patrick's Day with a cup of green nourishtea and these minty cookies.
You will need:
1 (1 pound 1.5 ounce) pouch sugar cookie mix
1/2 cup butter or margarine, softened
1/4 teaspoon mint extract
6 drops green food colouring
1 egg
1 cup creme de menthe baking chips
1 cup semisweet chocolate chips
Directions:
Mix cookie mix, butter, extract, food color and egg in bowl, until soft dough forms.
Stir in creme de menthe baking chips and chocolate chips.
Use a spoon and drop dough 2″ apart on a ungreased cookie sheet.
Bake at 350 degrees F for 8 to 10 minutes. Cool 3 minutes; remove from cookie sheet to wire rack.
Store at room temperature in a sealed container.
Cheers, tea lovers!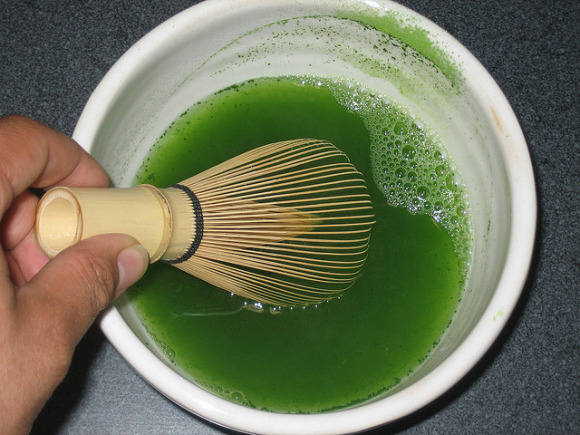 In search of the perfect cup of matcha? You've come to the right place!
You'll need the following supplies:
Happy Matcha nourishtea
A shallow bowl
A teaspoon
Bamboo whisk
Hot water
Directions:
Measure slightly more than 1/2 a teaspoon of matcha into the shallow bowl.
Boil water, and let sit for a few minutes.
Pour about 1/2 a cup of hot water into the bowl.
Hold the bowl steady with one hand, and the whisk in the other.
Using the motion of your wrist, make gentle zig zagging motions with your wrist.
Pull the whisk along the sides of the bowl to remove any clumps of powder.
Continue whisking until foamy bubbles start to form at the top of the tea. (Around 1 minute of whisking)
Remember, this is your cup of matcha! For a thinner cup, use less matcha, for a more full bodied taste, use more powder. Enjoy!
Green tea tastes good, and it's good for you!
We have 5 varieties, each with their own distinct taste: Happy Matcha, The Sencha Way, The Sky Flies the Bird, Jasmine Dragon Phoenix Pearls and The Emerald Path.
Learn more about their origins here.
Here's our top 5 reasons to drink green tea:
Packed with antioxidants
Increases immunity
Bacteria killer
Aids in digestion
Boosts metabolism
We want to know: what's your favourite green nourishtea? Tweet us @nourishtea!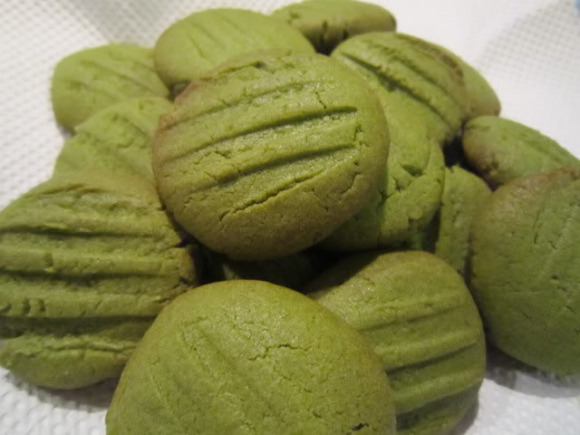 Use our Happy Matcha powder to make these sweet green tea cookies. Here's what you need:
3/4 cup (2.25 oz) Confectioners sugar
5 oz Unsalted butter, cut into cubes
1 3/4 cup (8.5 oz) All-purpose flour
3 Large egg yolks
1.5 tbsp Matcha (powdered green tea)
1 cup Granulated sugar (for coating)
Yield (2" leaf shape): Approx 25
Directions:
Preheat the oven to 350F. Line a sheet pan with parchment paper.
Whisk the confectioner's sugar and green tea together in a bowl.
Add the butter and green tea/sugar mixture to the bowl of a stand mixer fitted with the paddle attachment. Mix until smooth and light in color.
Add the flour and mix until well combined.
Add the egg yolks and mix just until the eggs are fully incorporated and a mass forms.
Form the dough into a disk and chill in the refrigerator until firm (about 30 minutes).
Roll the dough out to ½" thickness.
Cut the dough with a leaf cookie cutter.
Toss each cut cookie in a bowl of granulated sugar to coat.
Place the sugar-coated cookie on a parchment lined pan. Bake at 350F for 12-15 minutes, or until slightly golden around the edges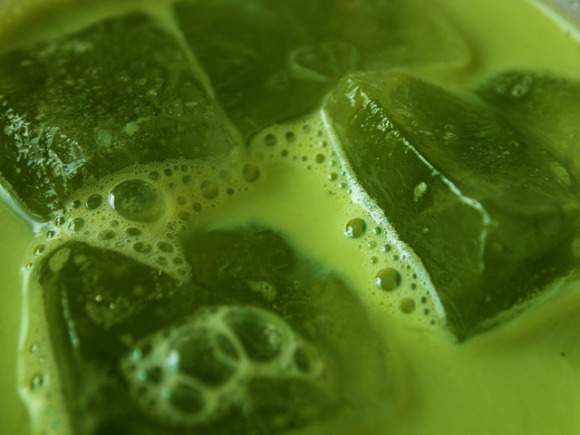 Only four ingredients are needed to whip up this satisfyingly simple matcha smoothie. The fresh boost of vitamins and minerals is the perfect start to your day. Here's what you need:
½ a banana
½ cup soy milk (or milk of choice)
2 tsp of nourishtea Happy Matcha
A couple cubes of ice
Blend ingredients until creamy and smooth. Enjoy! (Serves 1)