Tag :
Duke of Earl
11:27 am , January 28, 2014
Comments Off

on Duke of Earl Tea & Vanilla Bean Birthday Cake
Earl Grey & Vanilla Bean Birthday Cake

Makes 3 6-inch round cake layers
Ingredients
⅔ cup milk
4 teaspoons of Nourishtea Duke of Earl
2 tea filters
2 whole eggs, plus 1 egg yolk
1 teaspoon vanilla extract
1¼ cups + 2 tablespoons (160 grams) cake flour
1 cup sugar
2¼ teaspoons baking powder
¼ teaspoon salt
½ cup (1 stick) unsalted butter, softened
blue or purple food coloring (optional)
Method
Preheat your oven to 350° F.
Line three 6″ round cake pans with parchment paper.  Grease and flour.
In a small saucepan, heat the milk until simmering.  Place 2 teaspoon of Duke of Earl tea into each tea filter. Remove the milk from the heat, add the tea filters, and steep for 5 minutes.  Remove the tea filters and allow the milk to cool completely.
Whisk together the whole eggs, egg yolk, and vanilla in a small bowl.  Set aside.
Sift together the flour, sugar, baking powder, and salt in a large bowl.
Add the butter and cooled milk to the dry ingredients.  Beat on low until well-blended.  Raise the speed to medium and beat for another minute.
Add the egg/vanilla mixture in three additions, beating well after each addition.
If desired, beat in food coloring.
Divide the batter between the three pans and bake for about 20 minutes, or until a toothpick inserted in the middle comes out clean.
Allow to cool in the pan for 10 minutes.  Remove from the pan and allow to cool completely.
Vanilla Bean Swiss Meringue Buttercream
Ingredients
4 egg whites
1¼ cups sugar
1 cup (2 sticks) unsalted butter
½ tablespoon vanilla extract
1 vanilla bean, split lengthwise and scraped
pinch of salt
Method
Cube the butter and leave out at room temperature (make sure you don't leave it over the dishwasher or oven or it will get too warm).
Whisk the eggs whites and sugar together in the top part of a double broiler.  Make sure that the water in the bottom part is simmering, not boiling.  Keep whisking until a candy thermometer reads 160° F.
Transfer to a stand mixer with the whisk attachment installed.  Whip at a medium speed until the mixture is at room temperature (the bowl feels neutral when you touch it).
Lower the mixing speed and add the butter, one cube at a time.  Keep mixing until there is an obvious change in the consistency of the buttercream – from soupy to much more solid (you can usually hear the mixer start making different noises).  If it stays soupy for a very long time, throw the bowl in the refrigerator for ten minutes or so and retry.
Add the vanilla extract, vanilla bean, and salt and keep mixing until they are incorporated.
Assembly
Level and torte (cut in half) each cake layer so that you have 6 even layers.  I like using a cake leveler

 

to do this.
Place your first cake layer on your decorating surface.  Spread a thin layer of buttercream evenly over the cake layer.  Place the next layer on top, and repeat.  Repeat with the remaining layers.
Spread a thin coat of buttercream over the top and sides of the cake.  Don't worry if you get crumbs in the frosting – that's what this layer is for!  Place the cake in the refrigerator for 20-30 minutes to allow the frosting to set.
Remove your cake from the refrigerator and frost with a final, thicker layer of buttercream.
Top with fondant rose candles if desired.
Adapted from Huntsman and Wynne's Chai Cake by the Building buttercream blogspot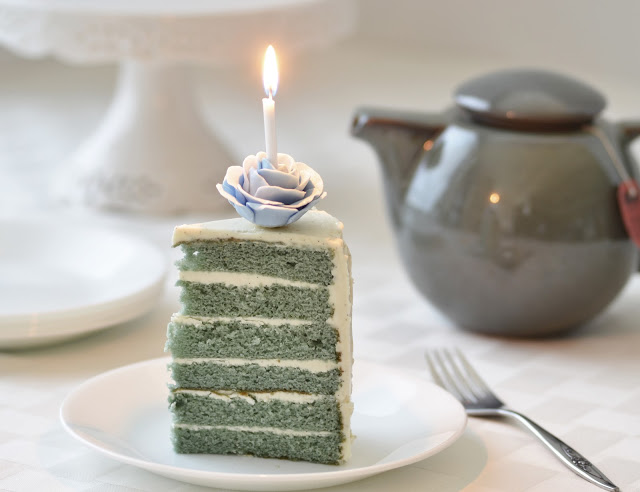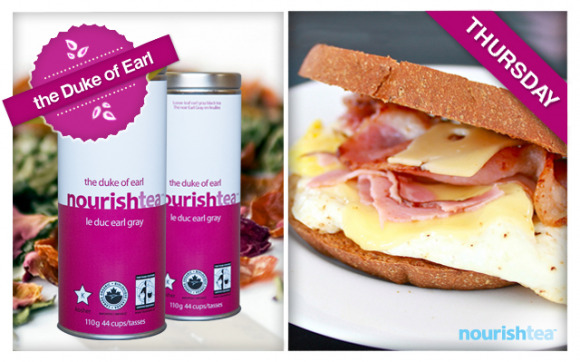 Who says sandwiches are just for lunch? This Italian inspired breakfast sandwich is satisfying and simple. Enjoy with a hot cup of our Duke of Earl tea and repeat after us: delizioso!
You will need:
2 slices of bread
1 slice of provolone cheese
A few slices of thinly sliced salami
1 egg
Freshly sliced tomato
Directions:
1. Spray a small pan with cooking spray and fry 1 egg until it is over-medium (yolk will be a bit firm).
2. In a toaster oven place the two slices of bread in a toaster oven. Place the cheese on one half of the bread. Toast until desired crispiness or until cheese melts.
3. While bread is toasting, slice a tomato.
4. Assemble the sandwich with the cheesy piece of bread on the bottom, the egg, and then layer remaining meat and tomato. Top with mayo or mustard if desired.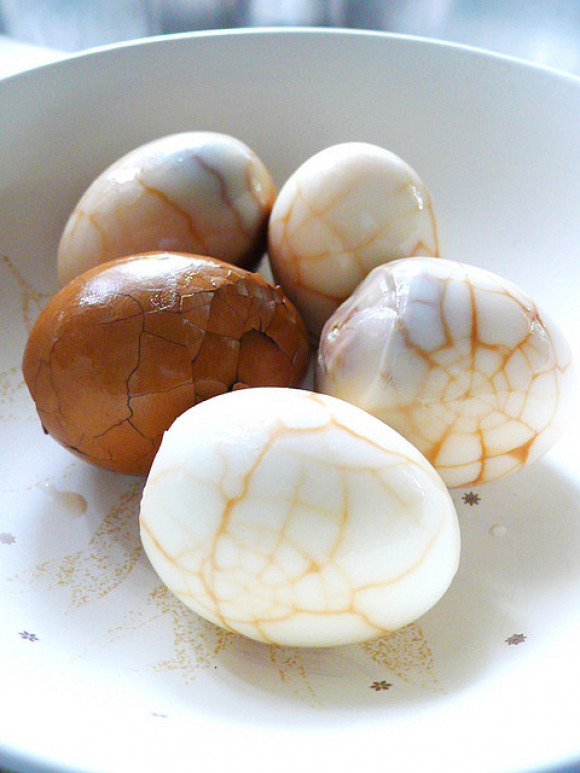 Our tea comes from all corners of the world: Japan, Sri Lanka, India, Egypt, South Africa, USA and many from China.
In celebration of the Chinese New Year (Lunar New Year), we thought it would be fun to share a special recipe!
The literal translation of tea eggs is "tea leaf egg" and that's exactly how this treat is made. A tea egg is a flavourful, fragrant traditional Chinese snack. Nicknamed marble eggs, the unique pattern is created by the cracked shell during the curing process.
We want to see how your tea eggs turned out, tweet us a picture @nourishtea.
You will need:
8 eggs
2 quarts cold water
3 tbsp loose leaf black tea (We suggest our Duke of Earl)
3 tbsp soy sauce
2 tsp Chinese five spice
2 whole star anise
1 stalk green onion, tied in a knot
1 thumb-size slice of ginger
Directions:
Place the eggs in a medium saucepan and cover with cold water. Bring to a boil at high heat.
After reaching boiling point, reduce to a simmer for 15 mins
Drain the water and rinse eggs in cold water
When the eggs are cooled, crack the shells, but leave them on (you may want to roll the eggs on the counter – place a towel down first)
Put the eggs back into the medium saucepan with 2 quarts of cold water, Duke of Earl tea, soy sauce, Chinese five spice, star anise, green onion, and ginger.
Bring the contents to a boil again then reduce to a simmer. Let simmer for an hour.
Remove the pan from the heat and let the eggs cool completely in the liquid.
Peel the shells from the eggs and serve whole.