Tag :
sandwiches
Also known as "afternoon tea" this small meal was traditionally served on low tables. Today, "low" refers to the time tea is served; 3-5pm. Afternoon tea is a fantastic way to spend time with friends chatting and catching up. We're going to take you through all the steps of throwing a delightful low tea party of your very own!
Invite
Low tea is best reserved for small groups. We suggest a party of no more than 6, but ultimately the number of guests is up to you.
A paper invitation is a must. Include essential information like date, time, and dress code. Depending the formality of your party, you may suggest the ladies wear hats and gloves, and the gentleman wear blazers.
Setting
Doilies, lace and fine china all politely declare 'tea party'. If you have fine silver or special china, this is the perfect time to let it shine! If you don't have a set of teacups, try looking at and thrift store where you can find often find a full set, or you can build an eclectic collection of various cups and saucers.
Each guest should have a teacup and saucer, a small plate for food, a teaspoon, a butter knife (for scones) and a cloth napkin.
Food
A three-tiered stand in the centre of the table is the perfect way to present 3 courses; tea sandwiches, scones, and bite sized desserts. The first course is served from the bottom of the tray, working upwards.
Food is best served in small, dainty portions, since low tea is essentially a snack time. Conversation and tea are the main focus, not the food.
Some extras you will need on the table:
Sliced lemons
Sugar bowl
Milk
Butter dish
Tea
The lady of the hour, and the most important detail of the party! We recommend a black tea like our Duke of Earl or Canadian Breakfast. Steep to a medium strength, unless your group has a united specific preference.
Taste your tea first before adding extras.  Remember tea first, then add milk and sugar, or lemon.
Enjoy the tea and good company, cheers!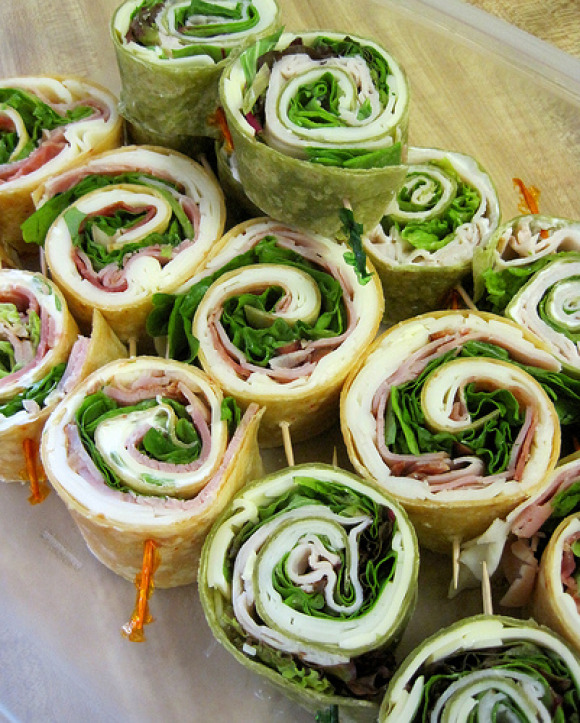 8:24 pm , November 7, 2012
Comments Off

on Pinwheel Wraps
Traditional pinwheel sandwiches are a classic when served with tea. But for a modern approach to the tea luncheon, these rolled sandwiches are a tasty alternative with many possibilities. Serve with our Cresting Cranes of Legend tea.
First, lie out a large tortilla of choice. You can cut it into a square now to make rolling easier.
Coat the tortilla with a wet ingredient, like hummus, dijon or cream cheese. Not too thick, but enough to bind the other ingredients together. Next thinly lie out meat, cheese and veggies flat covering the surface of the wrap.
Try one of these combos or make your own!
Dijon, ham and swiss
Egg salad and spinach
Hummus and roasted veggies
Pesto, provolone and salami
Roll the wrap somewhat tightly into a log, and slice into even pinwheels. Use a decorative toothpick to hold the pinwheel together. Voila! Understated sandwiches for your next tea party.