Tag :
matcha
Is your dad a Matcha, Matcha Man?
Tea puns aside: Enter our contest on Twitter and you could WIN your dad a tin of Happy Matcha!
This Japanese green tea has antiviral and antibiotic properties to keep dad healthy. It's also loaded with antioxidants, one of which even helps with bodybuilding! Learn more about it here.
All you have to do to enter is follow us on Twitter @nourishtea and RT our tweet to win.
https://twitter.com/nourishtea/status/345274886408777728
See what others are saying about Happy Matcha and buy your own at well.ca.
Good luck tea fans, and Happy Father's Day!
Don't forget to enter our #MatchaMatchaMan Green #Tea Giveaway! http://t.co/gUKOoPwFVn #matcha
— nourishtea (@nourishtea) June 14, 2013
RT to win our Matcha! #MatchaMatchaMan #Giveaway http://t.co/gUKOoPwFVn pic.twitter.com/W1EV73lZZW

— nourishtea (@nourishtea) June 13, 2013
Terms & Conditions To enter the competition, you must (a) be a Canadian resident; (b) the age of majority in your Province and (c) retweet one of the qualifying contest tweets. No purchase necessary. Contest ends Sunday June 16, 9PM EST. Prize is not exchangeable for cash or any other prize. Incorrectly completed entries will be disqualified. Winner will be contacted after the giveaway ends.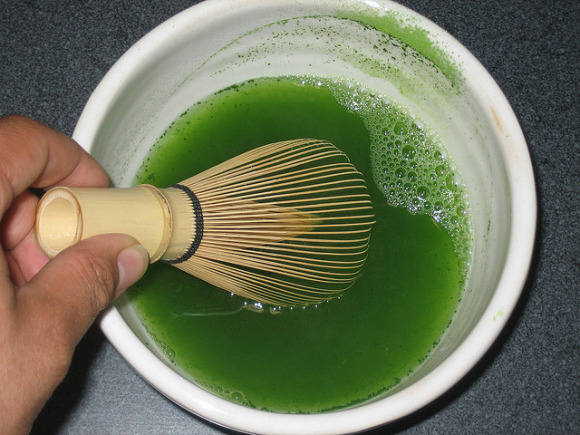 In search of the perfect cup of matcha? You've come to the right place!
You'll need the following supplies:
Happy Matcha nourishtea
A shallow bowl
A teaspoon
Bamboo whisk
Hot water
Directions:
Measure slightly more than 1/2 a teaspoon of matcha into the shallow bowl.
Boil water, and let sit for a few minutes.
Pour about 1/2 a cup of hot water into the bowl.
Hold the bowl steady with one hand, and the whisk in the other.
Using the motion of your wrist, make gentle zig zagging motions with your wrist.
Pull the whisk along the sides of the bowl to remove any clumps of powder.
Continue whisking until foamy bubbles start to form at the top of the tea. (Around 1 minute of whisking)
Remember, this is your cup of matcha! For a thinner cup, use less matcha, for a more full bodied taste, use more powder. Enjoy!
Green tea tastes good, and it's good for you!
We have 5 varieties, each with their own distinct taste: Happy Matcha, The Sencha Way, The Sky Flies the Bird, Jasmine Dragon Phoenix Pearls and The Emerald Path.
Learn more about their origins here.
Here's our top 5 reasons to drink green tea:
Packed with antioxidants
Increases immunity
Bacteria killer
Aids in digestion
Boosts metabolism
We want to know: what's your favourite green nourishtea? Tweet us @nourishtea!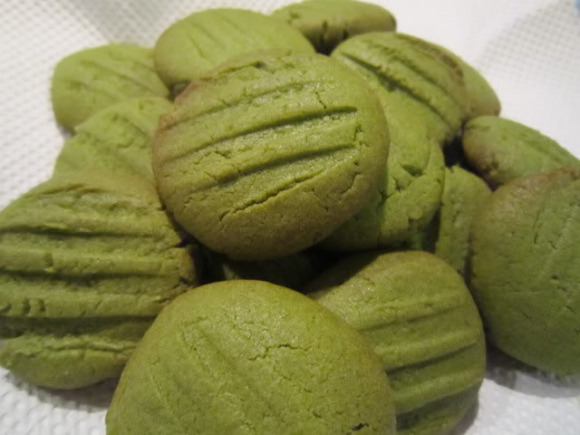 Use our Happy Matcha powder to make these sweet green tea cookies. Here's what you need:
3/4 cup (2.25 oz) Confectioners sugar
5 oz Unsalted butter, cut into cubes
1 3/4 cup (8.5 oz) All-purpose flour
3 Large egg yolks
1.5 tbsp Matcha (powdered green tea)
1 cup Granulated sugar (for coating)
Yield (2" leaf shape): Approx 25
Directions:
Preheat the oven to 350F. Line a sheet pan with parchment paper.
Whisk the confectioner's sugar and green tea together in a bowl.
Add the butter and green tea/sugar mixture to the bowl of a stand mixer fitted with the paddle attachment. Mix until smooth and light in color.
Add the flour and mix until well combined.
Add the egg yolks and mix just until the eggs are fully incorporated and a mass forms.
Form the dough into a disk and chill in the refrigerator until firm (about 30 minutes).
Roll the dough out to ½" thickness.
Cut the dough with a leaf cookie cutter.
Toss each cut cookie in a bowl of granulated sugar to coat.
Place the sugar-coated cookie on a parchment lined pan. Bake at 350F for 12-15 minutes, or until slightly golden around the edges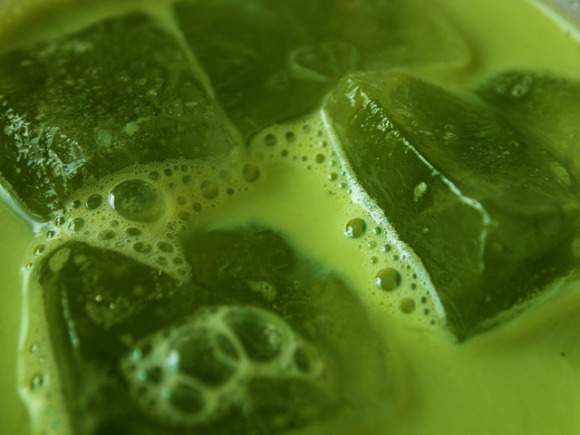 Only four ingredients are needed to whip up this satisfyingly simple matcha smoothie. The fresh boost of vitamins and minerals is the perfect start to your day. Here's what you need:
½ a banana
½ cup soy milk (or milk of choice)
2 tsp of nourishtea Happy Matcha
A couple cubes of ice
Blend ingredients until creamy and smooth. Enjoy! (Serves 1)