Tag :
infuser
2:00 pm , March 22, 2013
Comments Off

on Makeshift Tea Filter
Sometimes we misplace very important things, like our tea infusers.
Here's how to make a tea filter in a pinch, using items you already have in your kitchen.
Coffee Filter + String
Measure out the amount of tea leaves you will need, and drop them in the centre of the filter.
Pinch the filter into a satchel, bunching the acordian folds, with the tea forming a ball in the centre.
Use a piece of uncoloured string (eg. butchers string) to keep the tea tied tightly in the bundle.
Ta-da! Drop the satchel in a cup or pot and steep to desired strength.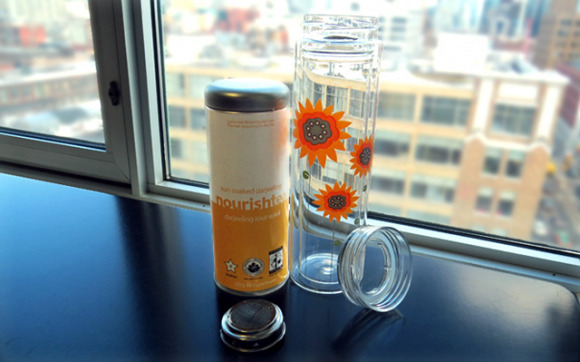 10:00 am , March 3, 2013
Comments Off

on Travelling Tea Essential (WIN a tea tumbler from us!)
Always on the go? You need a tea travel mug!
We are giving away TWO Kerplunk double-walled glass tea tumblers to 2 different winners. All you need to do to enter is COMMENT on this blog post with your go-to healthy lunch. (One entry per person, Contest ends Sunday March 10, 2013)
Here's our step-by-step guide on how to use your tumbler:
Terms & Conditions
To enter the competition, you must be: (a) a Canadian resident; (b) the age of majority in your Province; and (c) comment on this blog post. No purchase necessary. One entry per person. The closing date is March 10, 2013 at 11:59PM EST. The draw will take place on March 11, 2013. Prize is not exchangeable for cash or any other prize. Incorrectly completed entries will be disqualified. Winner will be contacted after the giveaway ends.
Comments
Powered by Facebook Comments
Tags: bottle, contest, double walled, glass, infuser, kerplunk, nourishtea, tea, travel mug, tumbler, WIN
This entry was posted on Sunday, March 3rd, 2013 at 10:00 am
You can follow any responses to this entry through the RSS 2.0 feed.
No infuser needed! We'll take you step-by step on how to brew your favourite nourishtea using a French press.
The same appliance many folks use to brew a pot of coffee can brew a delicious pot of tea. Also known as a press pot, it will keep the leaves and water separate, allowing you to control the strength of the tea.
Measure nourishtea into the bottom of the pot (about 1 tbsp per 8 oz)
Pour boiling water over the tea
Insert the plunger into the pot, resting above the water
Allow the tea to steep to desired strength (you will see the colour begin to change)
When your tea has steeped, press the plunger to the bottom of the pot
Pour and enjoy!