Tag :
holiday
All green everything! We're celebrating St. Patrick's Day with a cup of green nourishtea and these minty cookies.
You will need:
1 (1 pound 1.5 ounce) pouch sugar cookie mix
1/2 cup butter or margarine, softened
1/4 teaspoon mint extract
6 drops green food colouring
1 egg
1 cup creme de menthe baking chips
1 cup semisweet chocolate chips
Directions:
Mix cookie mix, butter, extract, food color and egg in bowl, until soft dough forms.
Stir in creme de menthe baking chips and chocolate chips.
Use a spoon and drop dough 2″ apart on a ungreased cookie sheet.
Bake at 350 degrees F for 8 to 10 minutes. Cool 3 minutes; remove from cookie sheet to wire rack.
Store at room temperature in a sealed container.
Cheers, tea lovers!
Tags: cookies, Green, green tea, holiday, mint chocolate chip, nourishtea, Recipe, St. Patrick's Day, St. Patty's
This entry was posted on Sunday, March 17th, 2013 at 11:00 am
You can follow any responses to this entry through the RSS 2.0 feed.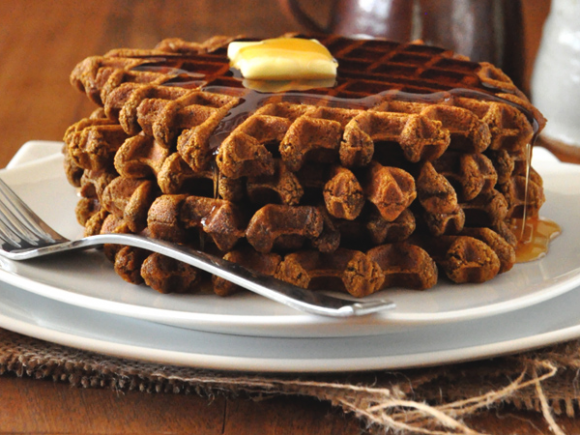 Enjoy these decadent gingerbread waffles with a hot cup of your favourite nourishtea. We recommend a full bodied black tea like our Duke of Earl to best compliment the spicy flavours in this recipe. Your winter will feel warmer in no time!
You will need:
1 1/4 cup whole wheat pastry flour* (or 3/4 cup of unbleached all purpose flour and 1/2 cup of whole wheat flour mixed)
1/2 Tbsp baking powder
1/4 cup + 1 Tbsp brown sugar
1 tsp cinnamon
1 tsp ginger
1/4 cup pumpkin puree
1 egg
Slightly less than 1 cup of milk (Between 3/4 and a full cup)
2 Tbsp molasses
1 Tbsp canola oil
Directions:
Preheat waffle iron.
Add egg, molasses, pumpkin puree, oil, brown sugar and whisk. Add milk and stir once more.
Add flour, baking powder and spices to a sifter and sift over wet ingredients. Stir until just combined.
Ideally, let batter rest for 5 minutes before cooking.
Once preheated, generously spray the waffle iron with non-stick cooking spray and spoon about 1/2 cup of the batter onto the center of the iron and cook according to your machine's instructions. (set to darker setting if you prefer crispier waffles)
Once done, remove and place on cooling rack to let steam roll of and crisp up a bit.
Serve warm with butter and maple syrup.
Serves: 4 waffles
3:39 pm , December 10, 2012
Comments Off

on Bling Bling, Glamour with Your Tea
Maybe dainty tea sets aren't your style. We've got you covered, tea lover. These blinged out glamour spoons are the perfect gift for any tea diva.
Get yours here.