Tag :
rooibos
11:10 am , January 23, 2014
Comments Off

on Peach and Crimson Rooibos Tea Punch
Peach and Crimson Rooibos Tea Punch
Serves: Makes 1-1.25l of punch
Ingredients
500ml strong rooibos tea, cooled
500ml peach juice
at least 100ml vodka
1 lemon, thinly sliced
handful fresh mint leaves
2 peaches, thinly sliced
Instructions
Combine all the ingredients in a large jug and stir well.
Serve over ice.
leave out the vodka for a great non-alcoholic cocktail.
Recipe by Alida Ryder of Simply Delicious
This entry was posted on Thursday, January 23rd, 2014 at 11:10 am
You can follow any responses to this entry through the RSS 2.0 feed.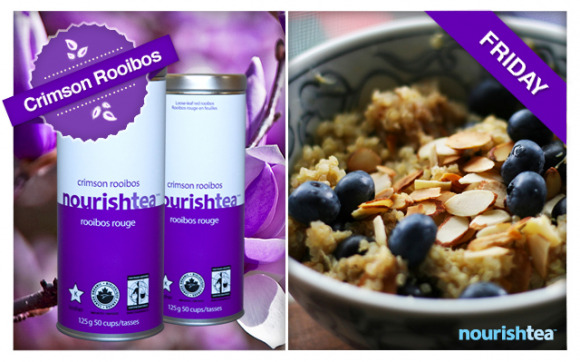 This hearty breakfast bowl will give you all the energy you need to conquer Friday. Try it served with a hot cup of our Crimson Rooibos tea, and you're good to go!
You will need:
½ cup quinoa
½ tsp cinnamon
¼ tsp nutmeg
1 tsp brown sugar
¼ cup dried cranberries
¼ cup roasted walnuts
½ cup milk
Directions:
Prepare quinoa according to the package directions. Stir in sugar and spices, then cranberries and walnuts. Top off your breakfast bowl with milk of your choice. There you have it, a hot and healthy breakfast cereal that's simple to make, and tastes great.