Tag :
lime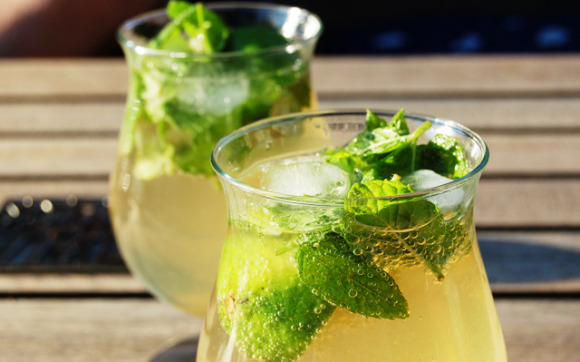 You'll definitely want to bookmark this Green Tea Mojito recipe before the hot summer days hit. Flavours of lime, mint and green tea will cool you down in a flash. Cheers to hot summer days ahead!
You will need:
Juice of 1 lime
4 large spearmint leaves
2 tsp honey or simple syrup
1/2 cup brewed green nourishtea (we like to use The Emerald Path), chilled
Splash of soda water
Sliced cucumber for garnish
Directions:
Muddle the mint in the lime juice in a tall glass. Fill the glass with ice, and pour in your chilled tea. Top with a splash of soda water and stir well. Garnish with a mint leaf and a slice of cucumber.
Tags: green tea, lime, mint, minty, mojito, nourishtea, Recipe, tea, tea mojito, The Emerald Path
This entry was posted on Tuesday, May 7th, 2013 at 3:34 pm
You can follow any responses to this entry through the RSS 2.0 feed.