Tag :
herbal
Remember tea parties with Mom?
Sweet, cool, legendary. Sound like your Mom?
Enter our contest on Twitter and you could WIN your mom a triple tea prize pack!
Mom will win one tin of each nourishtea: Sweet Berry Breeze, Minty Igloo and Cresting Cranes of Legend.
RT to win a triple #tea prize pack for your Sweet, Cool, Legendary Mom! #MyMomIsTearrific ow.ly/kNPpP twitter.com/nourishtea/sta…

— nourishtea (@nourishtea) May 7, 2013
Cheers, and good luck tea fans!
Follow us on Twitter @nourishtea.
—
Terms & Conditions To enter the competition, you must (a) be a Canadian resident; (b) the age of majority in your Province and (c) retweet one of the qualifying contest tweets. No purchase necessary. Contest ends Sunday May 12, 9PM EST. Prize is not exchangeable for cash or any other prize. Incorrectly completed entries will be disqualified. Winner will be contacted after the giveaway ends.
Tags: berry tea, contest, giveaway, herbal, mint tea, Mom, Mother's Day, nourishtea, tea, White tea
This entry was posted on Tuesday, May 7th, 2013 at 3:58 pm
You can follow any responses to this entry through the RSS 2.0 feed.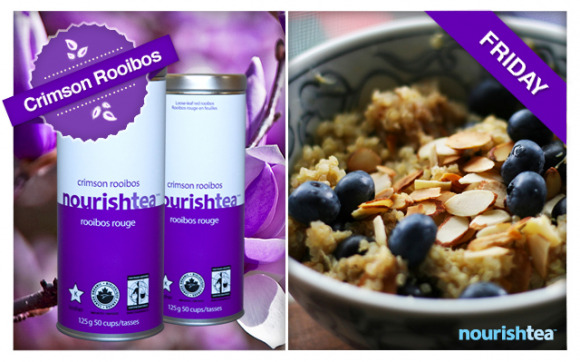 This hearty breakfast bowl will give you all the energy you need to conquer Friday. Try it served with a hot cup of our Crimson Rooibos tea, and you're good to go!
You will need:
½ cup quinoa
½ tsp cinnamon
¼ tsp nutmeg
1 tsp brown sugar
¼ cup dried cranberries
¼ cup roasted walnuts
½ cup milk
Directions:
Prepare quinoa according to the package directions. Stir in sugar and spices, then cranberries and walnuts. Top off your breakfast bowl with milk of your choice. There you have it, a hot and healthy breakfast cereal that's simple to make, and tastes great.
This berry powerful breakfast will give you enough gusto to make it through humpday.
You will need:
½ cup Greek Yogurt
Granola Ingredients:
5 cups old-fashioned rolled oats
3 cups almonds, coarsely chopped
1 cup sunflower seeds
3/4 cup untoasted sesame seeds
1/2 cup packed light brown sugar
2 tsp ground cinnamon
1 tsp ground ginger
1 tsp sea salt
3/4 cup unsweetened applesauce
1/3 cup rice syrup
1/4 cup honey
2 tbsp vegetable oil
Directions:
1. Preheat the oven to 300F (150C).
2. In a very large bowl, mix together the flaked grains or oats, almonds, sunflower and sesame seeds, brown sugar, cinnamon, ginger, and salt.
3. In a small saucepan, warm the fruit puree with the rice syrup, honey, and oil.
4. Mix the fruit mixture into the dry ingredients until thoroughly dispersed, then divide and spread the mixture evenly on two baking sheets.
5. Bake the granola for about 45 minutes, stirring every ten minutes, until the granola is deep golden brown.
6. Remove from oven, then cool completely.
7. Store in a large, airtight container. Keeps for up to one month.
(Yields about 1kg)
Tags: breakfast, granola, Greek Yogurt, healthy, herbal, homemade, nourishtea, Recipe, Sweet Berry Breeze, tea
This entry was posted on Wednesday, April 10th, 2013 at 9:48 am
You can follow any responses to this entry through the RSS 2.0 feed.