In the News
Earl Grey & Vanilla Bean Birthday Cake

Makes 3 6-inch round cake layers
Ingredients
⅔ cup milk
4 teaspoons of Nourishtea Duke of Earl
2 tea filters
2 whole eggs, plus 1 egg yolk
1 teaspoon vanilla extract
1¼ cups + 2 tablespoons (160 grams) cake flour
1 cup sugar
2¼ teaspoons baking powder
¼ teaspoon salt
½ cup (1 stick) unsalted butter, softened
blue or purple food coloring (optional)
Method
Preheat your oven to 350° F.
Line three 6″ round cake pans with parchment paper.  Grease and flour.
In a small saucepan, heat the milk until simmering.  Place 2 teaspoon of Duke of Earl tea into each tea filter. Remove the milk from the heat, add the tea filters, and steep for 5 minutes.  Remove the tea filters and allow the milk to cool completely.
Whisk together the whole eggs, egg yolk, and vanilla in a small bowl.  Set aside.
Sift together the flour, sugar, baking powder, and salt in a large bowl.
Add the butter and cooled milk to the dry ingredients.  Beat on low until well-blended.  Raise the speed to medium and beat for another minute.
Add the egg/vanilla mixture in three additions, beating well after each addition.
If desired, beat in food coloring.
Divide the batter between the three pans and bake for about 20 minutes, or until a toothpick inserted in the middle comes out clean.
Allow to cool in the pan for 10 minutes.  Remove from the pan and allow to cool completely.
Vanilla Bean Swiss Meringue Buttercream
Ingredients
4 egg whites
1¼ cups sugar
1 cup (2 sticks) unsalted butter
½ tablespoon vanilla extract
1 vanilla bean, split lengthwise and scraped
pinch of salt
Method
Cube the butter and leave out at room temperature (make sure you don't leave it over the dishwasher or oven or it will get too warm).
Whisk the eggs whites and sugar together in the top part of a double broiler.  Make sure that the water in the bottom part is simmering, not boiling.  Keep whisking until a candy thermometer reads 160° F.
Transfer to a stand mixer with the whisk attachment installed.  Whip at a medium speed until the mixture is at room temperature (the bowl feels neutral when you touch it).
Lower the mixing speed and add the butter, one cube at a time.  Keep mixing until there is an obvious change in the consistency of the buttercream – from soupy to much more solid (you can usually hear the mixer start making different noises).  If it stays soupy for a very long time, throw the bowl in the refrigerator for ten minutes or so and retry.
Add the vanilla extract, vanilla bean, and salt and keep mixing until they are incorporated.
Assembly
Level and torte (cut in half) each cake layer so that you have 6 even layers.  I like using a cake leveler

 

to do this.
Place your first cake layer on your decorating surface.  Spread a thin layer of buttercream evenly over the cake layer.  Place the next layer on top, and repeat.  Repeat with the remaining layers.
Spread a thin coat of buttercream over the top and sides of the cake.  Don't worry if you get crumbs in the frosting – that's what this layer is for!  Place the cake in the refrigerator for 20-30 minutes to allow the frosting to set.
Remove your cake from the refrigerator and frost with a final, thicker layer of buttercream.
Top with fondant rose candles if desired.
Adapted from Huntsman and Wynne's Chai Cake by the Building buttercream blogspot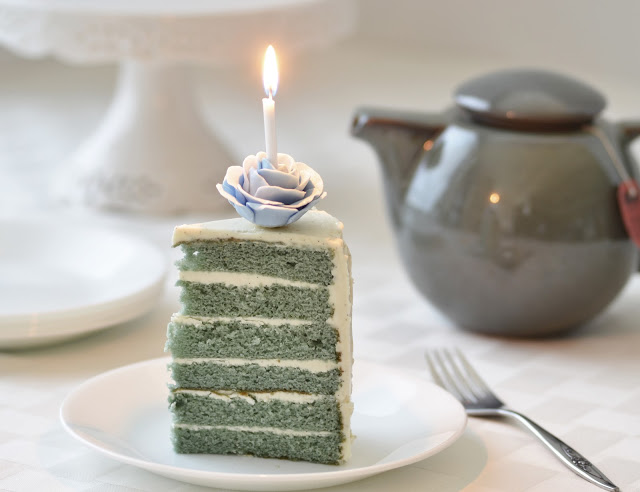 For you budding historians, here is a little background on tea!
Legend has it that the Emperor Shen Nung discovered tea in 2737 B.C. whist boiling water in the shade of a tree. A light breeze caused a few leaves to fall into his boiled water, producing a delicate liquor and perfume. The legend says that when the Emperor tasted it he found it to be delicious. The tree was a wild tea plant.
In China, tea was consumed largely for medicinal purposes until the Tang Dynasty (618-907 AD). In this time tea became more popular and became the source of artistic inspiration. LuYu (723-804 AD) was the first to write about tea in the Traditions of Tea, following this methods of preparation were standardized.
The Portuguese were the first European nation to  encounter tea in China. In 1606 the first tea chest arrived in Lisbon. From there it was shipped to France and then the Netherlands. England was the last country to join the tea revolution in 1652-1654. Tea spread in popularity in England due to Catherine de Breganza, the wife of King Charles II. She was from Portugal.
In 1650, tea was introduced to America by English and Dutch settlers. After England fought the French Indian War, the English Government decided to place tax on goods being sent to the Colonies. In 1773, the 'Sons of Liberty' in Boston protested this tax, by destroying the entire supply of tea which had been sent by the East India Company. They boarded the ship and threw the chests of tea into the harbour.  This was the start of the Boston Tea Party.
In 1789, America entered the tea trade. Newer, faster Clipper ships out sailed the heavier, slower English ships. By 1843, everyone was using Clippers!
The first tea shipment to arrive in Canada was imported by the Hudson Bay Company in 1716 and took more than a year to arrive. Up until the late 1800's tea was sold loose by local merchants. These merchants essentially sold tea right from the chests from which they were exported.
Serves 4
1/2 cup Steaming water
4 teaspoons loose-leaf green tea leaves such as sencha
4 teaspoons honey
4 salmon fillets
Pour the steaming water over the tea leaves in a small bowl and add honey. Cover and steep for 2-3 minutes, strain and discard the leaves. Place the salmon in a pan. Brush with honey tea and pour any remaining tea around the fish. Cover the fish. Let the fish marinate in the refrigerator for a minimum of 1 hour and a maximum of 2 days.
When ready to cook, preheat the oven to 350°F/180°C/gas 4. Place the fish in the pan skin-side down and pan fry until golden. They will not be cooked, transfer the fish to a roasting pan and place in the oven for 5-10 minutes (until the fish is cooked completely).
It is amazing served with sautéed sweet potatoes and a spinach and mushroom medley.

There are many ways to brew loose leaf tea.
How you brew depends on your preference and what accessories you have on hand.
As a standard rule of thumb you will need about 1 tsp of tea for every 6-8 oz of water.
1. French press/Press pot
You can see our post on how use one here.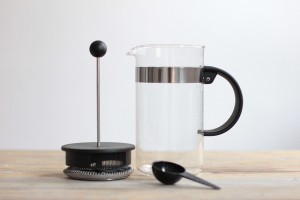 2. Paper filters
Disposable paper filters are available at many tea shops, or you can buy them online here.
Measure out the tea into the filter. Fold the top into the pouch, making a sealed tea bag so the leaves dont escape.
These filters can be used for a single cup of tea, or for a full pot.
3. Tea Infuser
Fill your infuser with tea, and let steep until your tea reaches your desired strength.
Metal tea infusers come in many shapes and forms. Some ball infusers are attached to a small metal chain (like a tea bag) and some are built right into a cup or pot like a basket.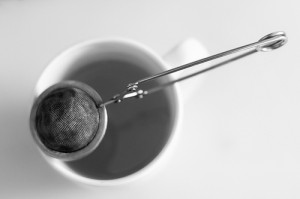 4. Freeform Brewing
Some experienced tea drinkers prefer to allow the leaves to bloom freely to full size.
Your tea will be stronger with this method, and you may get a leaf or two in your mouth. It's all about preference!
How do you steep? Tweet us @nourishtea.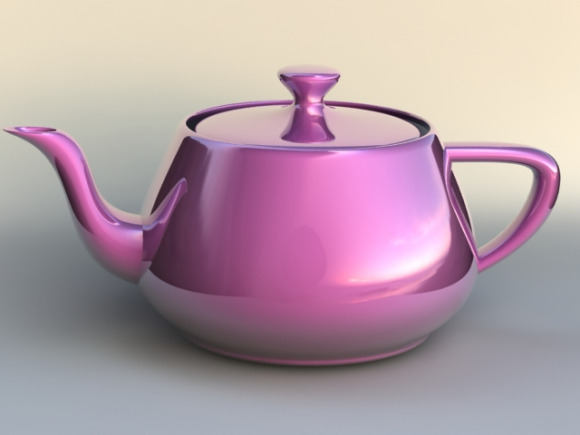 In 2011 Shapeways.com introduced Glazed Ceramics as part of their materials catalogue. You may be wondering what that has to do with tea drinkers? The answer is very exciting.
3D printing is a similar process to your home computer printer, but adds the Z-axis function to the mix – and instead of ink and paper it uses a variety of materials. These printers have been in development since the 1980's, and are getting more precise and more affordable. Right now, Makerbot.com is selling 3D printers for $2,199, making 3D printing mainstream. 3D rendering software is becoming comprehensible and available.
This means that anyone can get a hold of 3D rendering software and render 3D objects without too much difficulty, or use a 3D scanner ($1,400) to replicate (as well as modify) an existing tangible object. If a 3D printer is not within your budget, or you wish to 3D print in materials such as gold, silver or ceramics, then that is where shapeways.com come in. Shapeways is a company that takes your 3D object order and prints it for you in a variety of different materials.
Long story short: designing your own ceramic Foodsafe Tableware such as…TEAPOTS! As a matter of fact, teapots and 3D rendering already have a sort of in-joke in the computer graphics community with the Utah Teapot, which has become an industry standard reference object.
Now 3D enthuisasts are able to print their own customized Fine China. What would your design look like?
Photo Credit: thor83 via Compfight cc
3D printing a teapot! http://t.co/Bd4HNSsUPZ check out our blog! #teapot #teatime #tea #tealove

— nourishtea (@nourishtea) September 5, 2013
Zast Foods is excited to announce that it has formed a partnership with QOL Programs Inc, a company owned and operated by Avi Markus, a co-founder of the nourishtea brand, in order to distribute nourishtea into the US marketplace.
Avi's passion and understanding of the nourishtea brand, the evolving tea category, and overall "natural set" within grocery, will be of great benefit to nourishtea in the United States, as it begins to roll out in several key markets in time for late 2013 / early 2014. When interviewed Avi said "I'm thrilled to be back involved with this exceptional brand, and I am confident that it will do extremely well in the US at this time – when the tea category is going through such great changes. The tea set is ready for a contemporary and quite frankly, exciting loose leaf brand, with an honest value proposition".
nourishtea can be sourced through John Gentile of AJ Letizio Sales and Marketing, and can be found on the Buyer's Best Friend wholesale network www.bbfdirect.com
The brand can be shipped direct or through a regional distributor of choice.
Avi Markus can be reached at 416.220.9979 or avi@qolprogramsinc.com
John Gentile can be reached at 781.686.2537 or jgentile@ajleitizio.com
We invite all buyers and planners to please be in contact in order to receive samples and learn more about nourishtea.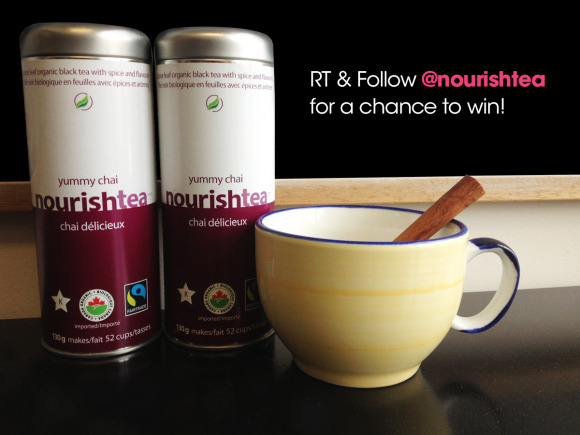 All you have to do to enter is follow @nourishtea on Twitter and retweet a contest tweet to enter!
Don't forget to Like us on Facebook for updates on more contests!
CHAI HARD. RT & FOLLOW us to win two tins of nourishtea! #looseleaf #tea #TeaTime http://t.co/fPwX6aYH2N http://t.co/liAjdbJGaP

— nourishtea (@nourishtea) August 27, 2013
CHAI HARD 2: CHAI HARDER. RT & FOLLOW us to win two tins of yummy chai! #looseleaf #teatime #tealove #tea http://t.co/BbBiGKY6w1

— nourishtea (@nourishtea) August 28, 2013
CHAI HARD WITH A VENGEANCE: RT & FOLLOW us to win two tins of nourishtea! #looseleaf #teatime #tealove #giveaway http://t.co/8SasZtYcAx

— nourishtea (@nourishtea) August 29, 2013
This promotion is in no way sponsored, endorsed or administered by, or associated with, Twitter. We hereby release Twitter of any liability. To enter the competition, you must be: (a) a Canadian resident; (b) the age of majority in your Province; (c) follow @nourishtea on Twitter and (d) retweet one of the qualifying tweets. No purchase necessary. The closing date is Sunday, September 1st, 2013, 12:00 am EST. The draw will take place on September 2nd. Prize is not exchangeable for cash or any other prize. Incorrectly completed entries will be disqualified. Winner will be contacted after the giveaway ends.
Is your teapot the coolest? In the shape of your favorite cartoon character/ politcal figure? the cheekiest novelty? came from the Bauhaus? the embodiment of Wabi Sabi? or maybe it is just loved so much that you want to submit a photograph and a short description as to why your teapot is the BEST, and should be nourishtea's Teapot of the day!
Winner receives a triple tea prize pack:
A tin of nourishtea happy matcha, a glass travel tea decanter, and choice of one other tin of nourishtea!
Submit your photo & description to nourishtea.giveaway@gmail.com
Cheers, and good luck tea fans!
Follow us on Twitter @nourishtea.
Teapot of the Day: One of our runner ups for the nourishtea Teapot contest: Colleen's Super Functional Teapot! pic.twitter.com/FDQi4I6RL9

— nourishtea (@nourishtea) July 30, 2013

Terms & Conditions
Teapot of the Day: One of our runner ups for the nourishtea Teapot contest: Chrisanna's "Dribbley" ! pic.twitter.com/9X8qXA4hVi

— nourishtea (@nourishtea) July 29, 2013
Terms & Conditions To enter the competition, you must (a) be a Canadian resident; (b) the age of majority in your Province; (c)submit a photo of a teapot and (d) teapot must be owned by submitter. No purchase necessary. Contest ends Sunday July 28th, 2013 , 9PM EST. Prize is not exchangeable for cash or any other prize. Incorrectly completed entries will be disqualified. Winner will be contacted after the giveaway ends. Terms & Conditions of Winner, prize includes (a) one tin of happy matcha (only); (b) one glass travel decanter (only) and choice of one tin of nourishtea. ( must be in stock, winner will be notified of  prizes available )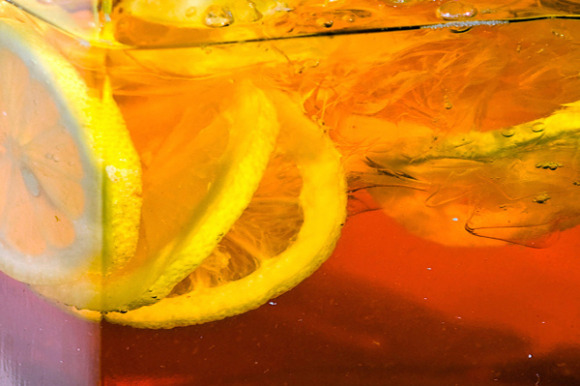 Have you ever had company and needed a quick & delicious beverage to beat the heat? As a quick alternative to our Cold Brewed Iced Tea, try our Quick Fix Bourbon & Iced Tea!
What you'll need:
French press, the largest you can get
Large pitcher 2L
1L boiling water/ or to fill French press
Pinch of nourishtea's loose Minty Igloo (optional)
4-6 Tbsp your favorite loose nourishtea (any will do)
12 fluid oz Bourbon whiskey (or 2 oz per person)
1-2 lemons sliced
1-2 limes sliced
4 oz lemon juice
Ice
Easy dissolve sweetener/sugar
Directions
Boil and steep tea in French press until desired strength. While waiting for tea to steep, add Bourbon to the pitcher, which should be filled ¾ full of ice. Add sliced lemons, limes & lemon juice. When tea is to desired strength, press it and pour slowly over the ice in the pitcher so that the tea melts the ice and cools before accumulating at the bottom. Add quick dissolve sweetener / sugar to taste! Serves 4-6 people and ready in 10-15 minutes!
Did you know: yesterday was National Iced Tea Day! Here's how to brew your own: http://t.co/7k0Dq1WIQr

— nourishtea (@nourishtea) June 11, 2013